There is so much for children to learn about God's Word, His world, and His unyielding grace.
At Northwest, safety, fun, and a nurturing environment are provided as young children get to hear and grow in God's love on a weekly basis.
Nursery and Preschool are available at both 9 and 10:35 a.m. each Sunday.
Nursery | Birth – Age 2
Preschool | Ages 2 – 4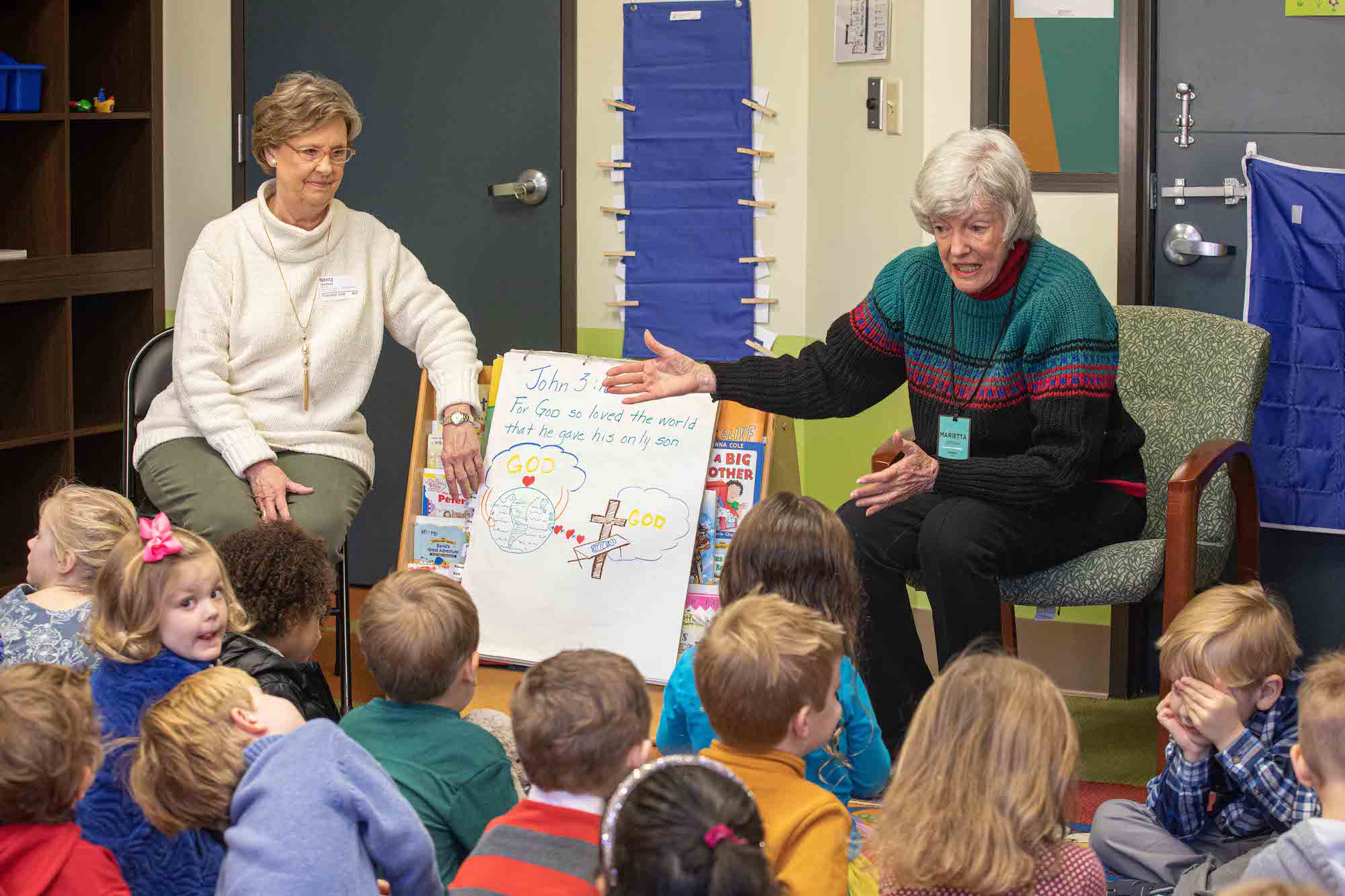 As we EMBRACE your little ones, we count it a real joy to be part of their journey as they experience a world of action, heightened emotions and immense growth. They will experience God's love through God's people who serve our infants, toddlers and preschoolers. Each week, preschool children will:
Listen to Bible stories and participate in hands-on activities.
Pray for others and be prayed over by leaders.
Learn to be aware of the needs of others.
Learn to model Christ-like behavior.
We believe it is important to EMBRACE your child with God's love from birth so that we can fully ENGAGE with them in God's Word during their elementary years.
Early Childhood Staff
David Huey
Family Life Minister
David Huey
Family Life Minister
Email:
dhuey@northwestbible.org
I joined the Northwest staff in October of 2020 as the Family Life Minister. After serving as a missionary and on staff at three churches since 2001, I am happy to be a part of what God is doing here in the Northwest family! Growing up in Memphis, I did not grow up in a home where Jesus was present. After finding myself in and out of trouble, God took control of my life and allowed me to meet an intentional youth pastor and students who invested in me. At 15 years old, God radically changed my life as I surrendered my life to Him and began to understand His grace and love! I was blessed enough to be a part of leading my mom to the Lord and helping my dad commit to a church once again! At 17, I knew God was calling me to serve Him for the rest of my life vocationally. My story has been and continues to be a story of grace – I have never deserved what God has done in my life and how He continues to use me, yet time after time, I find myself being blessed to be a part of His plan! A passage that has always resonated with me is John 3:30 – He (Jesus) must increase, but I must decrease. My hope is that people see Jesus in me more today than yesterday! When we have free time my wife Amy, and our two kids, Eli and Emma love camping, being outdoors, and eating tacos. I love coaching my kid's sports teams, playing guitar, and being disappointed by Tennessee Vols Football.
Susanna Lewis
Children's Minister
Susanna Lewis
Children's Minister
Email:
slewis@northwestbible.org
In September 2022, I joined the staff at Northwest as the Children's Minister! I was born in Guatemala and adopted as a baby. I was raised in a Christian home, grew up in the church, and became a believer at a young age. I went to Moody Bible Institute where I got my degree in Children's Ministry. After graduation, I had the privilege of returning to serve on staff at the church that raised me. Children's Ministry in the local church has always been my passion, and there is such joy in discipling the next generation. It is only by God's good grace and faithfulness that I am who I am today. In high school and college, I found satisfaction in the world and sought to please people out of fear of rejection. These days, I am reminded of Ephesians 2:10 "I am a masterpiece, created by God to do good works." I also have a heart for children in the foster care system, being both a CASA worker and a respite worker through CPS. On my days off, I spend time in creation, whether that's a State Park, hiking, fishing at a lake, camping, or just going for a drive with the windows down.
Savannah Shelton
Family Ministry Administrative Assistant
Savannah Shelton
Family Ministry Administrative Assistant
Email:
sshelton@northwestbible.org
I am so thankful to be serving at Northwest as the Family Ministry Administrative Assistant! I grew up in a tiny community in Central Texas, and graduated from Stephen F. Austin with a degree in Creative Writing, which has always been my passion. Throughout college, and in the year after, God moved in my life and opened so many doors for me to witness and work within different children's ministries — as a camp staffer, a volunteer, and even a curriculum writer — and gave me a heart for it as well.  One verse that's continually given me hope during seasons of anxiety, exhaustion, and uncertainty is Psalm 27:13, where King David says, "I remain confident of this: I will see the goodness of the Lord in the land of the living." It's a beautiful reminder that even in our darkest hours, we know God has light in store for us ahead!
Early Childhood's Frequently Asked Questions