Women need a safe place to grow in their relationship with Jesus and each other. We have a variety of ways for you to connect with other women.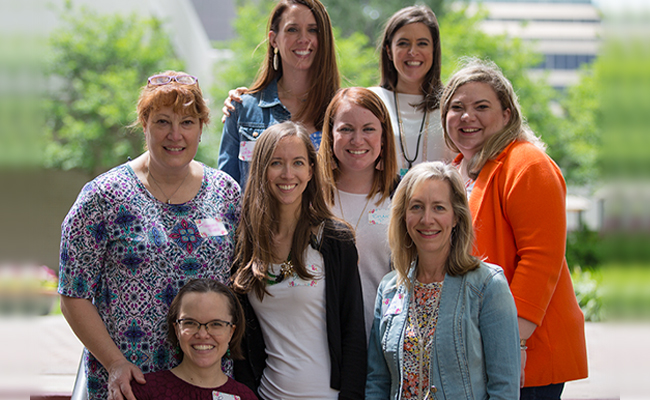 We believe life transformation happens through the truth of God's word in the context of community. Each spring and fall we offer semester long, Bible studies. We also have a variety of small groups who meet at various times and locations across our city. All of our groups encourage women to grow in Biblical knowledge while developing deep friendships. Search for a group HERE.
We seek to lovingly build up a woman's identity in Christ through a supportive relationship with another woman in the Body of Christ (Titus 2:3-5). Each mentoring relationship will look different as the partnership grows together in their knowledge of each other and understanding of God from His Word. If you are interested in becoming a Mentor, please email acirocco@northwestbible.org. If you would like to be matched to a Mentor, please complete our Mentee Application. 
The women of Northwest enjoy getting together many times throughout the year. Each spring, we host a women's retreat, every December we celebrate Christmas together, and at various times throughout the year we enjoy casual get-togethers, often over a cup of coffee! Keep an eye on our events calendar for upcoming dates.
The goal of Mothers of Preschoolers is to nurture and build into mothers of young children by providing relevant speakers, small group discussion time, and social activities to help build friendships. They believe in the simple but revolutionary idea that remarkable things happen when moms come together! The Northwest group meets every other Friday morning during the school year. To learn more about MOPS, visit the event page HERE.
Women's Ministry Staff
Angela Cirocco
Group Life Minister
Angela Cirocco
Group Life Minister
Email:
acirocco@northwestbible.org
It is a dream come true for me to serve as the Group Life Minister here at Northwest Bible Church. I was born and raised in Buffalo, NY, where I worked as a Registered Nurse in various capacities for many years with my longest and favorite stint being in Labor and Delivery. As I served my church as a volunteer in Women's Ministry, I felt God's call to pursue further Biblical education. I moved to Dallas in 2016 to attend Dallas Theological Seminary and began attending Northwest shortly thereafter.
I was raised in a Christian home and accepted Christ as my Savior at 6 years old. As I grew physically, so did my faith. I loved Jesus and sought to share the love he had shown me to my family, friends, coworkers, and patients. At church I served in children's, youth, and women's ministry. But at thirty years old, I hit a crossroads in my faith. My life looked nothing like I planned, my health failed, and some Christians hurt me deeply. I felt like God turned his back on me. Yet as I stewed in my anger, Jesus gently showed me the truth of who he is: Good, Loving, Gracious, and Merciful. My lament gave way to awe and deep love for the God of Grace. He used this time to show me my desperate need for his grace and strength every single day.
I love to eat and travel, in that order. Mountains, oceans, lakes, cities, missions trips—I love exploring all God made. But a  good travel experience better involve excellent food! God knew I needed Tex-Mex in my life when he moved me to Texas, and I can eat it for every meal. I like discovering new restaurants in Dallas, preferably over belly-laughs and deep conversation with good friends.
Aubrie Norman
Group Life Coordinator
Aubrie Norman
Group Life Coordinator
Email:
anorman@northwestbible.org
I am beyond excited to be on staff at Northwest as Group Life Coordinator! I have a bachelor's degree in Ministry Leadership from Dallas Christian College and a master's degree in Women's Ministry Leadership from DTS. My prayer is that God will use me in the lives of other women by encouraging them to not dwell on the brokenness in their lives but to find hope in God who has not forgotten about them or left them but is madly in love with them. I came to know the Lord at the age of 9 after my parent's divorce. I desperately needed the love of my Heavenly Father and committed my life and my heart's desires to Him. It wasn't until the age of 20 that I really began to grow in my faith, found a new love for His Word and truly began becoming the woman He created me to be. Through some disappointments, I learned what it means for God to be enough and for Him to meet all my needs. God really does use what others mean for evil and use it for our good and His glory! (Genesis 50:20) Nothing makes me happier than being a wife to my husband, Thomas and the mother to our two children, Tomlin & Kellie Bob. Some of my favorite things are traveling, the beach, listening to music, reading, running and sharing a big bowl of ice cream with my kids! My go to verse is Proverbs 3:5-6, "Trust in the Lord with all your heart and lean not on your own understanding; in all your ways submit to him, and he will make your paths straight." I have come to know that there is no greater peace then choosing to trust God with your life and to find unexpected joy in a life committed to following Him.
Women's Frequently Asked Questions