Women need a safe place to grow in their relationship with Jesus and each other. We have a variety of ways for you to connect with other women.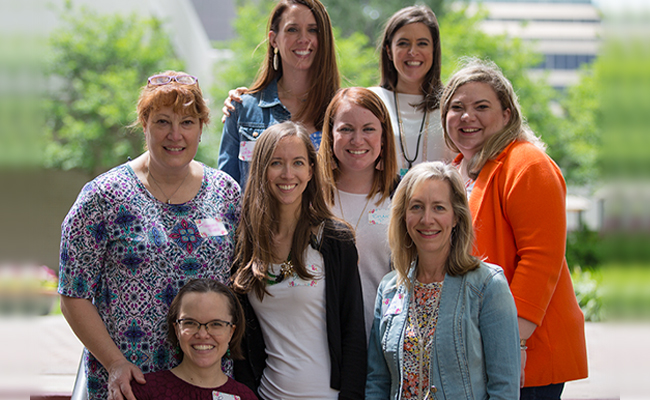 We believe life transformation happens through the truth of God's word in the context of community. Each spring and fall we offer semester long, Bible studies. We also have a variety of small groups who meet at various times and locations across our city. All of our groups encourage women to grow in Biblical knowledge while developing deep friendships.
Search for a Wednesday small group HERE.
Search for a Thursday small group HERE.
We aim to encourage women's spiritual growth through supportive relationships with sisters in Christ (Titus 2:3-5). Mentoring partners will seek to develop a friendship and encourage each other to pursue Jesus and live out God's Word in everyday life situations.
Interested in becoming a mentor? Contact our Women's Minister, Betsy Cruz at bcruz@northwestbible.org
Looking for a mentor? northwestbible.org/heart2heart
The women of Northwest enjoy getting together many times throughout the year. Each spring, we host a women's retreat, every December we celebrate Christmas together, and at various times throughout the year we enjoy casual get-togethers, often over a cup of coffee! Keep an eye on our events calendar for upcoming dates.
The goal of Mothers of Preschoolers is to nurture and build into mothers of young children by providing relevant speakers, small group discussion time, and social activities to help build friendships. They believe in the simple but revolutionary idea that remarkable things happen when moms come together! The Northwest group meets every other Friday morning during the school year. To learn more about MOPS, visit the event page HERE.
Women's Ministry Staff
Betsy Cruz
Women's Minister
Betsy Cruz
Women's Minister
Email:
bcruz@northwestbible.org
I count it a privilege and joy to serve as Women's Minister at Northwest! Seeing women grow as leaders who influence those around them for Jesus thrills my heart. I know what it's like to trust God one minute and be filled with fear and anxiety the next, but reading God's Word each day transforms my thoughts and renews my hope. For this reason, my deepest joy comes from encouraging other women to seek to know God better through the Scriptures so they can trust Him more fully. Prior to my current role, I served as a refugee ministry leader at the Northwest Community Center. I first committed to follow Jesus my freshman year in college when girls in my dorm invited me to a Bible study and shared the gospel with me. Since then, I've experienced the unexpected joy of desperate dependence on Jesus during a journey that included serving as a missionary in Central America 7 years and in Turkey 18 years. My husband Jose and I have two young adult children who were born in El Salvador and grew up in Turkey. Our family speaks 3 languages, enjoys travel, and loves international foods. I enjoy writing, taking my white Malti-poo for walks in the park, and drinking chai with Muslim friends.
Ira Dixon
Women's Ministry Administrative Assistant
Ira Dixon
Women's Ministry Administrative Assistant
Email:
idixon@northwestbible.org
Shannon Sciandra
Groups Director
Shannon Sciandra
Groups Director
Email:
ssciandra@northwestbible.org
I was born and raised in Dallas and am excited to be the Groups Director at Northwest! At the age of 6, I understood my deep need for Jesus as my savior. I still remember that moment of my salvation, knowing that Jesus was my one true hope in the midst of this broken world. At the age of 16, I felt God calling me to full time ministry and upon graduation from high school, pursued a degree in Christian Studies from Dallas Baptist University. During college I had my eyes opened to what He was doing among the nations and after graduation spent a year overseas doing mission work. When I returned stateside, I went on staff with East-West Ministries International and served with them for 4 years before coming to Northwest. My favorite scripture is John 10:10, "The thief comes only to steal and kill and destroy. I came that they may have life and have it abundantly." This verse reminds me that even though I see the enemy doing lots of destroying, Jesus has come to give life and He will always be the conqueror over that destruction. My husband and I were married in October 2020 and we have a sweet little dog, Kowe, whom we love! If I am not hosting an event you can usually find me spending time with family, playing board games, doing puzzles, traveling, antiquing, or exploring new food.
Women's Frequently Asked Questions