During a child's elementary school years, they are discovering how the world works and how to have fun in it.
Kids this age often test their limits and push beyond boundary markers of what they have known to be true. This is a time they begin to understand who God is and are ready to develop their own relationship with Him. During this time when we are not able meet on campus, we invite you to keep your children in the Word with videos and curriculum posted online.
K12 | Kindergarten – Grade 2
CLUB 345 | Grades 3 – 5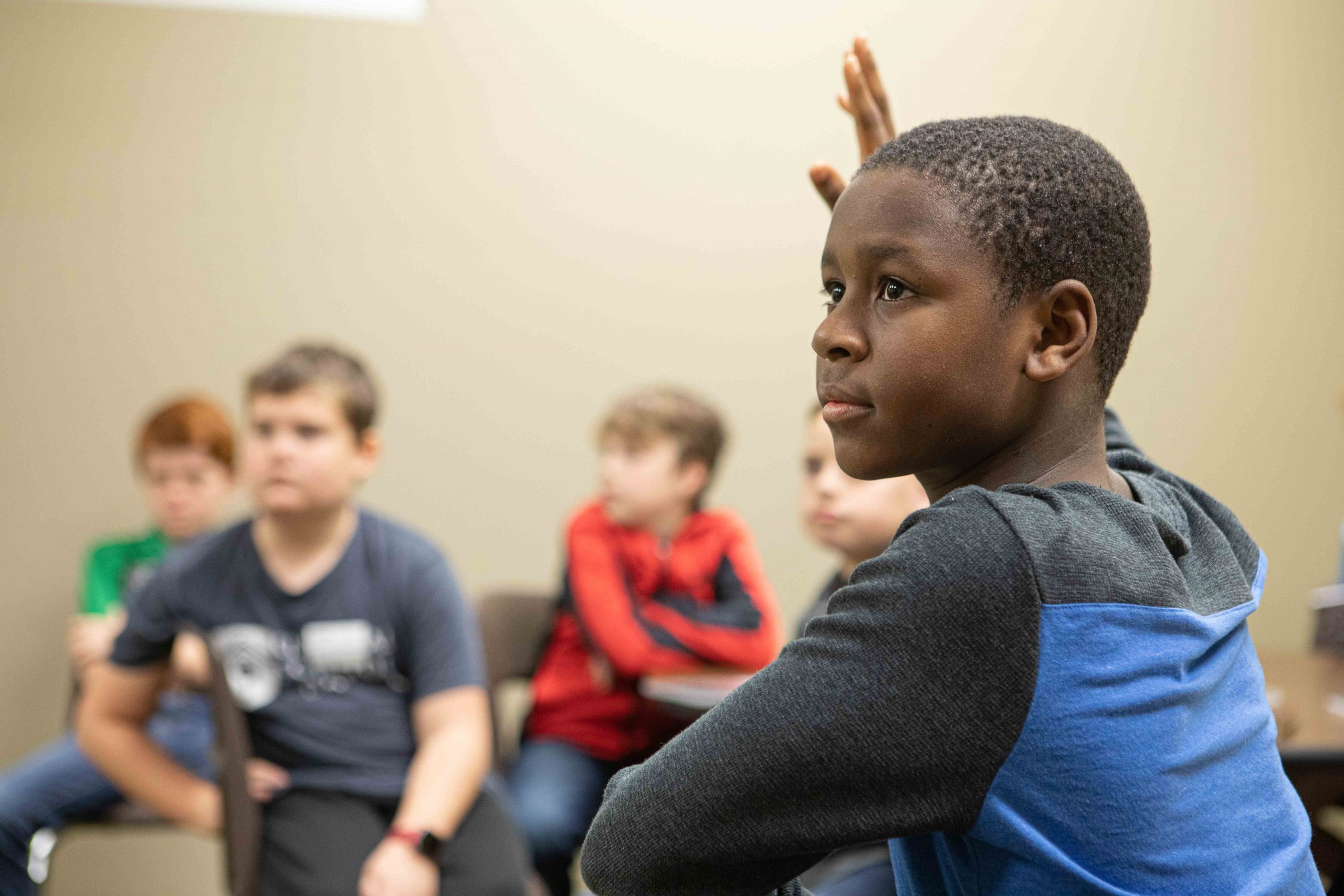 The Elementary Ministry strives to ENGAGE your children with activities that create laughter, fun, and connection as they learn about God's divine love to positively facilitate their exploration and guide their curiosity.
As we ENGAGE your children through activity-based learning about God, His world and their role in His world, we help them trust God's character and experience God's family. Each week, your child will:
Participate in a high energy worship service geared toward their age.
Listen to Bible stories and participate in related small group activities.
Pray for themselves and others.
Learn about God's character and how to love others.
During these elementary school years, we ENGAGE your child in God's Word and equip them to enter our Middle School Ministry, where we aim to AFFIRM their identity in Christ.
Elementary Upcoming Events
No upcoming events found in this category
Elementary Staff
Aimee Kelton
Children's Ministry Coordinator
Aimee Kelton
Children's Ministry Coordinator
Department:
Children, Early Childhood, Elementary, Family
Email:
akelton@northwestbible.com
I am so blessed to serve as the Children's Ministry Coordinator at an amazing church and a truly amazing place staffed with some of the most wonderful and talented people I've ever met! I came on board in January of 2016 and hope I get to stay for a lifetime. Prior to Northwest, I worked at the Shelton School for 10 years as the Testing Coordinator for children in grades 3 through 5 with learning differences. I am saved by grace through faith and made the decision to accept Christ at the age of nine during my fourth-grade year at a private Christian school. I will be forever thankful that my parents invested their resources into providing a Christian school environment. My life was sharpened daily by my Christian teachers through the freedom to learn about God whether it be Bible or English class. Through the years, I have sought after Him through Bible Studies, weekly mentor meetings with older Christian women, served in Campus Crusade for Christ at Southern Methodist University and led the women's Bible Study at the Chi Omega Sorority house. My absolute favorite person in the world is my husband, Rob! We love to go boot scootin' anywhere that will play good ole' country music, swim in our heated pool year-round, laugh until we can't stop and love the heck out of our two kids. I enjoy running and cooking, but those don't compare to the joy I receive as a wife and mom. My life verse has always been Nahum 1:7 – "The Lord is good. He is a safe place in times of trouble, and He cares for those who trust in Him." But once my dad received the diagnosis of ALS, my life verse became Romans 15:13 – "May the God of hope fill you with all joy and peace as you trust in Him, so that you may overflow with hope by the power of the Holy Spirit."
Jason South
Elementary Director
Jason South
Elementary Director
Department:
Children, Elementary, Family
Email:
jsouth@northwestbible.org
I am delighted to be the Elementary Director for the Northwest Children's Ministry, and a part of the Northwest Family. Prior to coming to Northwest, I served as a Children's' Minister as well as a Theatre Professor in Montgomery, Alabama. Throughout my life I have felt God's calling to serve children and to train others to serve them as well. I feel so blessed by God to be able to serve and use the talents that He poured into my life to train and instruct the children of Northwest.
I was fortunate to grow up in a strong committed Christian family and followed God's calling and was baptized at the early age of 10. My faith continued to grow though my life, and while in college, I saw how God wanted me to serve him through storytelling and training children. My passion for Christ continues to develop and I am constantly amazed how God directs our paths in our life. He has placed my family in a number of situations and locations where he made it abundantly clear how he wanted us to serve. We feel that our move to Dallas, and to Northwest is one of those situations. He has paved a way for us to be here and we are now excited to see his plan unfold, and his blessings overflow.
My favorite thing to do is to spend time with my family. My wife, Gina, and our four kids, Crispin, Duncan, Liam, and Juliet are my treasures. We love to travel, and we like to split up our vacation times between, Disney World, the beach, and the mountains. I love to listen to audio books and podcasts while I multitask or watch a fun movie with my family. We love to entertain guests in our home. The scripture that speaks life into me at the moment is Ecclesiastes 3:12 "I know that there is nothing better for people than to be happy and to do good while they live."
Elementary Frequently Asked Questions