There is so much for children to learn about God's Word, His world, and His unyielding grace.
At Northwest, safety, fun, and a nurturing environment are provided as young children get to hear and grow in God's love on a weekly basis.
Nursery and Preschool are available at both 9 and 10:35 a.m. each Sunday.
Nursery | Birth – Age 2
Preschool | Ages 2 – 4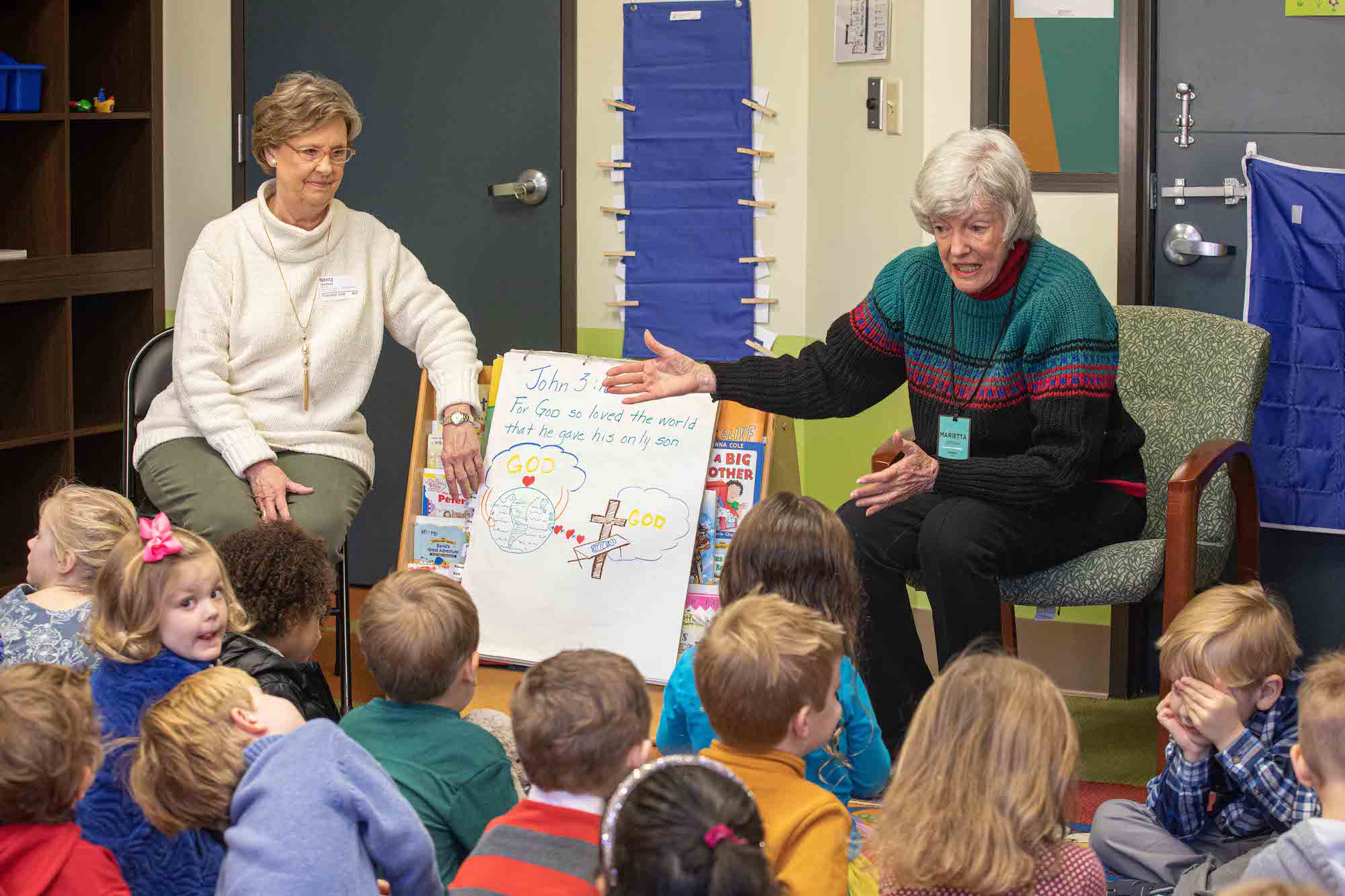 As we EMBRACE your little ones, we count it a real joy to be part of their journey as they experience a world of action, heightened emotions and immense growth. They will experience God's love through God's people who serve our infants, toddlers and preschoolers. Each week, preschool children will:
Listen to Bible stories and participate in hands-on activities.
Pray for others and be prayed over by leaders.
Learn to be aware of the needs of others.
Learn to model Christ-like behavior.
We believe it is important to EMBRACE your child with God's love from birth so that we can fully ENGAGE with them in God's Word during their elementary years.
Early Childhood Staff
David Huey
Family Life Minister
David Huey
Family Life Minister
Email:
dhuey@northwestbible.org
I joined the Northwest staff in October of 2020 as the Family Life Minister. After serving as a missionary and on staff at three churches since 2001, I am happy to be a part of what God is doing here in the Northwest family! Growing up in Memphis, I did not grow up in a home where Jesus was present. After finding myself in and out of trouble, God took control of my life and allowed me to meet an intentional youth pastor and students who invested in me. At 15 years old, God radically changed my life as I surrendered my life to Him and began to understand His grace and love! I was blessed enough to be a part of leading my mom to the Lord and helping my dad commit to a church once again! At 17, I knew God was calling me to serve Him for the rest of my life vocationally. My story has been and continues to be a story of grace – I have never deserved what God has done in my life and how He continues to use me, yet time after time, I find myself being blessed to be a part of His plan! A passage that has always resonated with me is John 3:30 – He (Jesus) must increase, but I must decrease. My hope is that people see Jesus in me more today than yesterday! When we have free time my wife Amy, and our two kids, Eli and Emma love camping, being outdoors, and eating tacos. I love coaching my kid's sports teams, playing guitar, and being disappointed by Tennessee Vols Football.
Mallory Kea
Family Life Administrative Assistant
Mallory Kea
Family Life Administrative Assistant
Email:
mkea@northwestbible.org
I am so excited to be the Family Life Administrative Assistant! I was born and raised in Tyler and moved to the Dallas area in 2018 to attend Dallas Baptist University, where God had so graciously turned my life upside down! I grew up going to church with my family and had always loved to serve and be a part of everything that I could at my home church. In 2020, I fully dedicated my life to Christ after years of being an outward Christian and doing the right things, but not being an inward Christ-follower. Since then, God has shown me how much I need to and get to depend on Him every single day. My favorite verse in the bible is found in 2 Corinthians 12:9-10 and reads, "But he said to me, 'My grace is sufficient for you, for my power is made perfect in weakness.' Therefore, I will boast all the more gladly of my weaknesses... For when I am weak, then I am strong." This verse is such a great reminder of who God is and how he is our ultimate peace and satisfaction in life. I love to spend my free time, painting, cooking, reading, and spending time with the people I love!
Lida Lindley
Early Childhood Minister
Lida Lindley
Early Childhood Minister
Email:
llindley@northwestbible.org
I am pleased to serve as the
Early Childhood Minister
since September 2020. Following Jesus Christ has led me on a life-long journey of loving God and loving others. After working in the banking industry as an accounting manager, I became a stay-at-home mom to raise my two sons. During that time, I served in children's ministry where I learned to tell Bible stories. After becoming an empty nester, I began my studies at Dallas Theological Seminary where I graduated in 2012 with a Master of Arts degree in Christian Education. 
My faith journey began in 1981 with a simple prayer asking God to reveal Himself to me. Shortly after this prayer, the Holy Spirit moved my sister to share the Gospel with me and to invite me to attend her church. A year later, I accepted Jesus Christ as my Savior. Over time, a growing understanding of Christ's sacrificial love for me as demonstrated in His death and resurrection has developed into my passion to serve families.
Spending time with my family is a priority in my life. I enjoy learning, teaching, crafting Bible studies, discussing theology, walking my golden retriever, praying for others, and being a friend. The Scripture that gives me confidence in my life and ministry is Philippians 1:6, "For I am confident of this very thing, that He who began a good work in you will perfect it until the day of Christ Jesus."
Early Childhood's Frequently Asked Questions