High School is an important time of awareness and transition.
Our High School Ministry exists to MOBILIZE teenagers to carry Christ with them as they transition into the adult world. This is done through an intentional focus in three areas.
Establishing their identity in Christ.
Serving and loving others.
Making disciples who make disciples.
Students meet on Sundays at 10:35 a.m. in the Theater. Dedicated volunteer leaders invest in the lives of students by creating a transforming atmosphere of fellowship to collectively study God's Word and live life together. Registration is not required; however, attendance is taken weekly.
We are looking forward to lots of fun events and programs in the spring! Make sure you check out the High School Spring Calendar!
If you would like to be added to our Student communications, email kmoore@northwestbible.org.
High School | Grades 9 – 12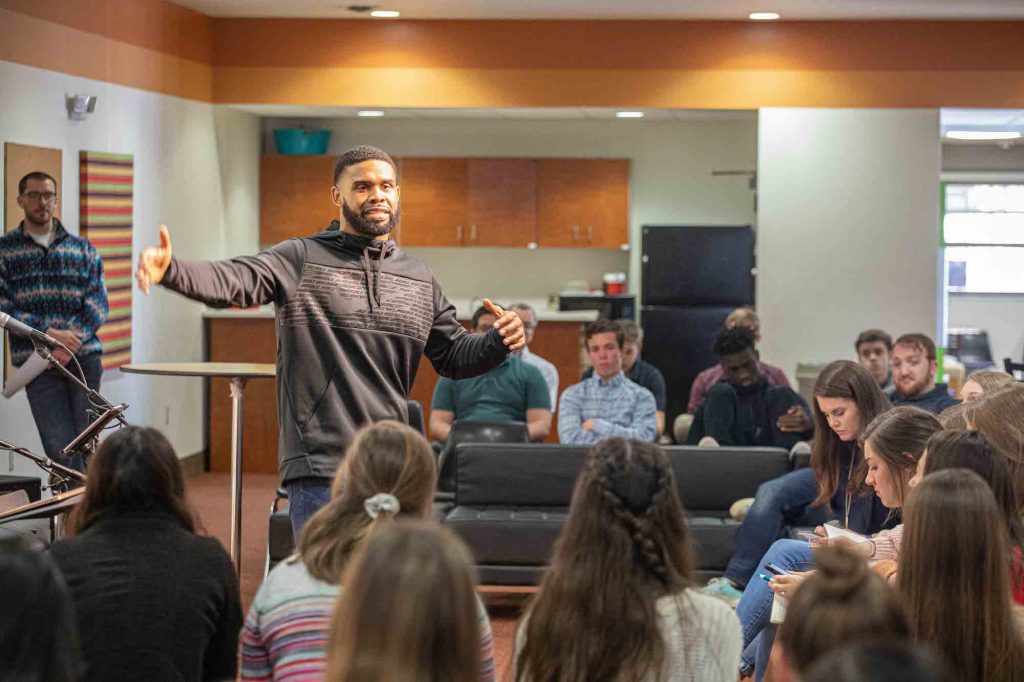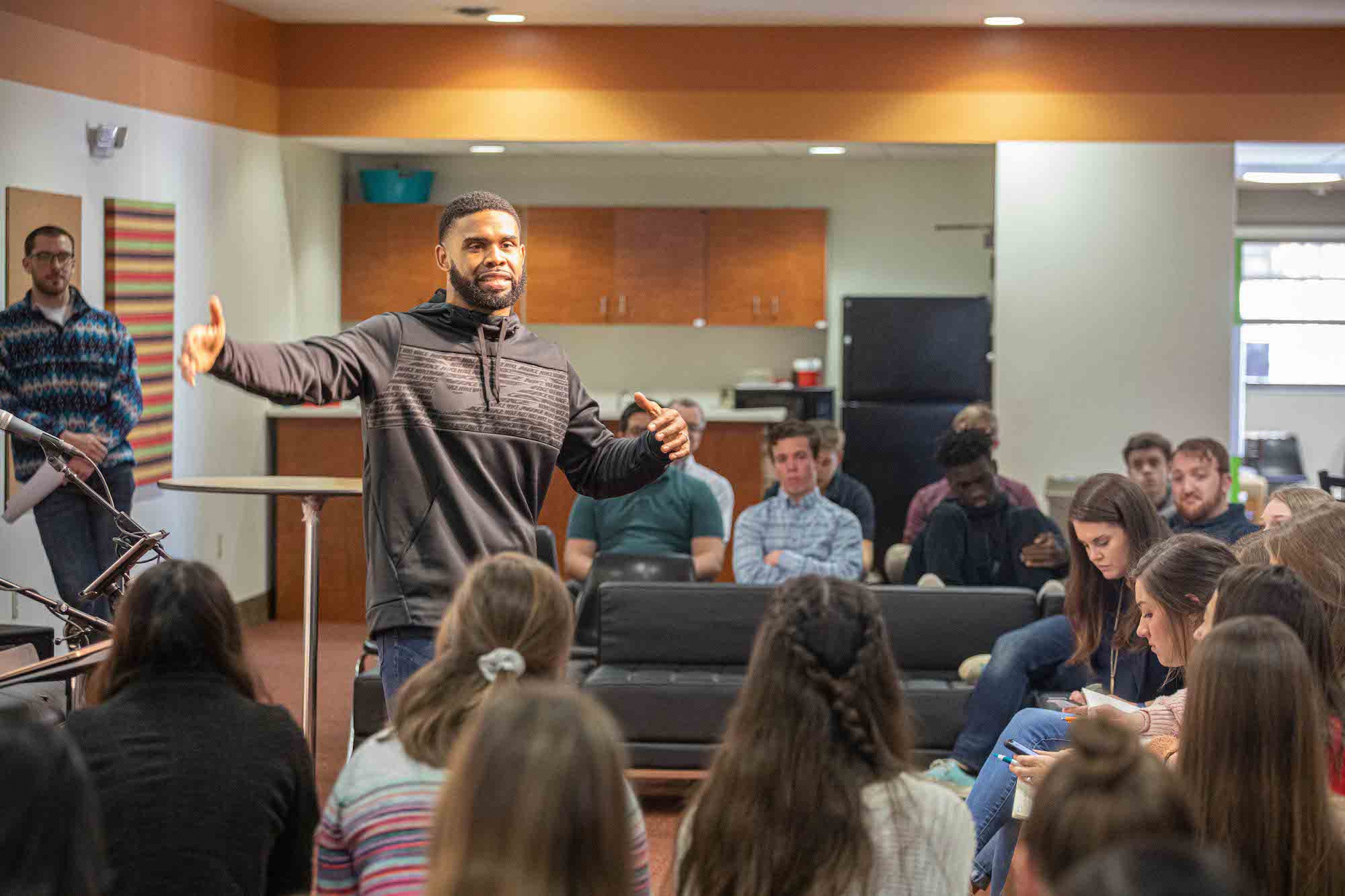 OUTSIDE OF SUNDAYS — Be a part of extended community as we gather together in large group and break out into small groups at various times throughout the week! Contact Marvin or Kennedy below to get connected or check out our Events page for upcoming student events.
High School Staff
David Huey
Family Life Minister
David Huey
Family Life Minister
Department:
Children, Early Childhood, Family, High School, Middle School, Students
Email:
dhuey@northwestbible.org
I joined the Northwest staff in October of 2020 as the Minister to Family Life. After serving as a missionary and on staff at three churches since 2001, I am happy to be a part of what God is doing here in the Northwest family! Growing up in Memphis, I did not grow up in a home where Jesus was present. After finding myself in and out of trouble, God took control of my life and allowed me to meet an intentional youth pastor and students who invested in me. At 15 years old, God radically changed my life as I surrendered my life to Him and began to understand His grace and love! I was blessed enough to be a part of leading my mom to the Lord and helping my dad commit to a church once again! At 17, I knew God was calling me to serve Him for the rest of my life vocationally. My story has been and continues to be a story of grace – I have never deserved what God has done in my life and how He continues to use me, yet time after time, I find myself being blessed to be a part of His plan! A passage that has always resonated with me is John 3:30 – He (Jesus) must increase, but I must decrease. My hope is that people see Jesus in me more today than yesterday! When we have free time my wife Amy, and our two kids, Eli and Emma love camping, being outdoors, and eating tacos. I love coaching my kid's sports teams, playing guitar, and being disappointed by Tennessee Vols Football.
Kennedy Moore
Student Ministry Coordinator
Kennedy Moore
Student Ministry Coordinator
Department:
Family, High School, Middle School, Students
Email:
kmoore@northwestbible.org
I am blessed to serve as the
Student Ministry Coordinator
here at Northwest Bible Church. I graduated from Baylor University with a Bachelor's in Family and Consumer Sciences with a focus in the wholistic Child and Family. I am currently pursuing a Biblical Counseling degree from Southwestern Baptist Theological Seminary. Prior to Northwest, I served for three years within a college ministry in Waco, Texas. After an internship which allowed me to serve families, I worked in a student ministry role which further affirmed my love for ministry. The Lord has given me a passion for family connections as He allows me to serve Him here in Dallas.
I have been blessed with a family that centered their decisions and lives around scripture. I felt the Lord move in my life to be baptized at an early age; however, I was not radically on fire for Him. Although I knew the Lord's sovereignty over my life, I began to delve into my personal relationship with Him during my own youth years. These transformative years allowed me to explore Christ in a new way and provide me with an identity rooted in Biblical truths. 
During my free time you can find me traveling, trying new foods, training for the next race or CrossFit competition, or cheering for the Baylor Bears. I find joy in the mountains while hiking and exploring new terrain with good company. I love making connections with others, hearing their stories, and getting to build relationships. My two bible verses that I cling to are Psalm 55:22 and Romans 15:13. They echo the promise that I get to be completely and joyously reliant on the Lord, what a blessing!
Marvin Walker
High School Minister
Marvin Walker
High School Minister
Department:
Family, High School, Students
Email:
mwalker@northwestbible.org
I'm excited to be serving Christ here at Northwest as the High School Minister. In January 2018, I began hanging out with students on an interim basis. Serving the Kingdom full-time was something I sensed coming, but I continued working in the corporate world until the Lord opened the door and I joined the Northwest team full time in April 2018.
I heard the gospel in its entirety in 2012 and was discipled in my relationship with Jesus, which ignited my passion for discipling others. Two words that are unique to my odyssey with the Lord are "Normalizing Hearkening." The first portion of John 10:27 reads, "My sheep hear My voice." So, hearing from on high is a normal thing that we can enjoy with the Good Shepherd. I've had the privilege of serving millennials and men, but I realize I've simply been wired with a heart for others and have begun to enjoy the mandate to show love because of being loved. I'm thrilled to be spending time reminding students daily that our lives are meaningless without Jesus. We all have the decision to live wild or wise and having experienced both keeps me clinging to Christ.
Life has been turnt (meaning beyond exciting), having hit the lottery twice (no not the mega millions). By this I mean marrying my bride, Amber, and having my first child on New Year's Day 2018. I enjoy visiting Southern Cali to spend time with all my family members and friends, all types of exercising, and taking a nap at any point in the day when time allows. 
High School Frequently Asked Questions