Middle School is a time for students to make their faith their own. 
Our Middle School ministry seeks to AFFIRM your student's identity in Jesus by providing an atmosphere where students experience community with loving adult leaders as we worship, study God's Word and live life together.
Students gather on Sunday mornings at 10:35 a.m. with girls meeting in the Middle School Room, and guys meeting in The Gym. Registration is not required; however, attendance is taken weekly.
We can't wait to see you! Check out our Fall 2020 Middle School Calendar.
If you would like to be added to our Student communications, email kmoore@northwestbible.org.
Middle School | Grades 6 – 8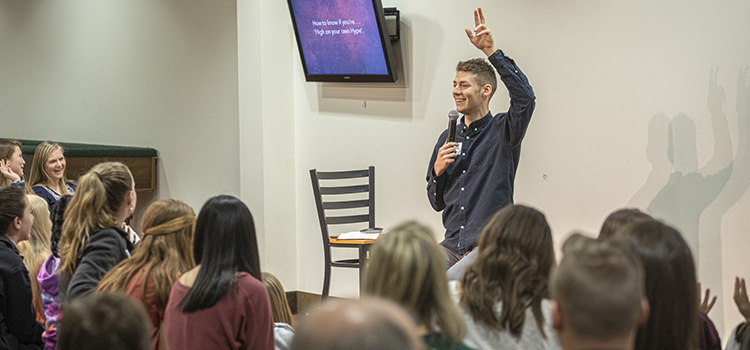 OUTSIDE OF SUNDAYS — M&M's is the place to be on Wednesday nights! Middle schoolers meet with leaders on Wednesday evenings from 6:30-8 p.m. on campus for fun and fellowship. Contact Kennedy or Joel below, or view our Events page to learn more!
Middle School Staff
Joel Mancini
Middle School Minister
Joel Mancini
Middle School Minister
Department:
Family, Middle School, Students
Email:
jmancini@northwestbible.org
I joined the family of Northwest Bible Church in April 2018. My heart beats to bring joy and fun without sacrificing truth and conviction to the work of discipling middle school students. I am married to my lovely wife Ashley and have started what we hope to be a BIG family one day, with the birth of our first daughter.
I was a pastor's kid from birth and no doubt achieved the legendary "awkward middle child" award. I trusted Jesus with my life at a young age, but that was soon overshadowed by my parents' divorce. In high school, God was faithful to bring a church volunteer into my life to challenge my young faith. That is all it took to set a fire in my soul for Jesus and his church. 
On a free Saturday, you might find me playing disc golf, enjoying a cup of coffee, catching up with an old friend or hiking with my wonderful wife! We love to have people over for dinner and board games! When in need of encouragement I often turn to Ezra 7:10 to focus and lift my spirit. "For Ezra had set his heart to study the Law of the Lord, and to do it and to teach his statutes and rules in Israel."
Kennedy Moore
Student Ministry Coordinator
Kennedy Moore
Student Ministry Coordinator
Department:
Family, High School, Middle School, Students
Email:
kmoore@northwestbible.org
I am blessed to serve as the
Student Ministry Coordinator
here at Northwest Bible Church. I graduated from Baylor University with a Bachelor's in Family and Consumer Sciences with a focus in the wholistic Child and Family. I am currently pursuing a Biblical Counseling degree from Southwestern Baptist Theological Seminary. Prior to Northwest, I served for three years within a college ministry in Waco, Texas. After an internship which allowed me to serve families, I worked in a student ministry role which further affirmed my love for ministry. The Lord has given me a passion for family connections as He allows me to serve Him here in Dallas.
I have been blessed with a family that centered their decisions and lives around scripture. I felt the Lord move in my life to be baptized at an early age; however, I was not radically on fire for Him. Although I knew the Lord's sovereignty over my life, I began to delve into my personal relationship with Him during my own youth years. These transformative years allowed me to explore Christ in a new way and provide me with an identity rooted in Biblical truths. 
During my free time you can find me traveling, trying new foods, training for the next race or CrossFit competition, or cheering for the Baylor Bears. I find joy in the mountains while hiking and exploring new terrain with good company. I love making connections with others, hearing their stories, and getting to build relationships. My two bible verses that I cling to are Psalm 55:22 and Romans 15:13. They echo the promise that I get to be completely and joyously reliant on the Lord, what a blessing!
Middle School Frequently Asked Questions