What is Baptism?
Baptism is for all who have been transformed by the unexpected joy of desperate dependence on Jesus Christ. In baptism, we publicly identify Jesus Christ as our Savior and participate in His death and resurrection by dying to what separates us from God and by being raised to newness of life in Christ. Through baptism, believers invite others to witness and celebrate what God has done in their lives.
Frequently asked questions
Baptism is an outward expression of inward transformation. We are not saved by baptism or any other good works. We are saved by grace alone, through faith alone, in Jesus Christ, alone.
For by grace you have been saved through faith. And this is not your own doing; it is the gift of God, not a result of works, so that no one may boast. For we are his workmanship, created in Christ Jesus for good works, which God prepared beforehand, that we should walk in them. Ephesians 2:8-10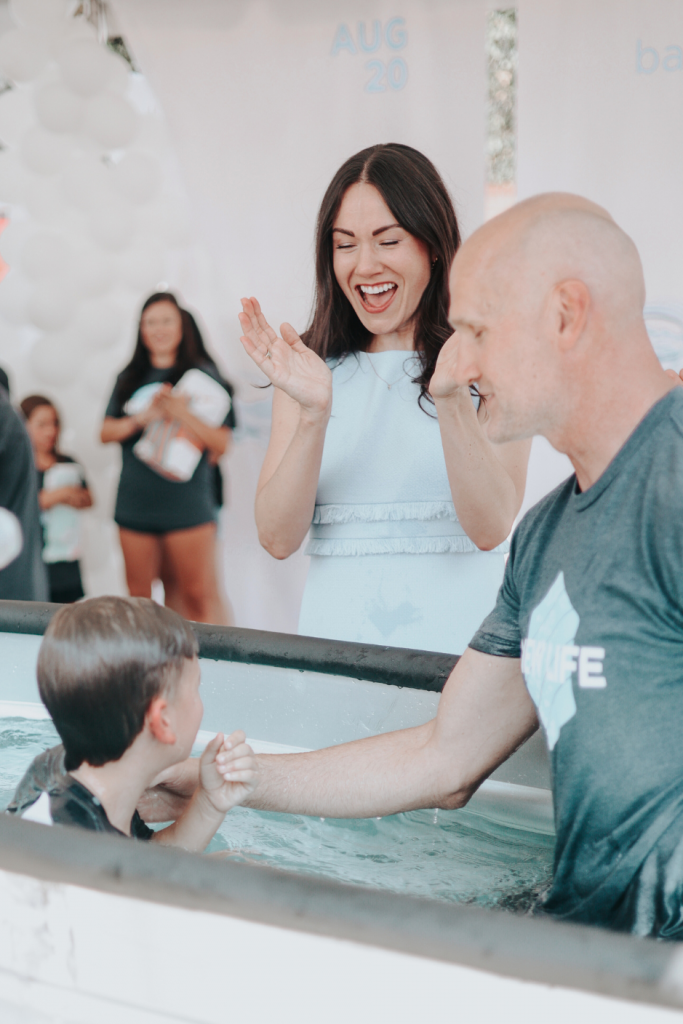 Interested in being baptized?
Once we receive your baptism form, we will follow up and schedule a time for you to connect with a minister! During this time, we want to get to know you, hear your testimony, and coordinate which approved minister will perform your baptism. From there we will schedule your baptism date so you can invite others to celebrate with you and your Northwest family!
Interested in learning more about baptism or want to talk with a minister first? Contact our Care Minister, David Rogers.
Baptism Staff
David Huey
Family Life Minister
David Huey
Family Life Minister
Email:
dhuey@northwestbible.org
I joined the Northwest staff in October of 2020 as the Family Life Minister. After serving as a missionary and on staff at three churches since 2001, I am happy to be a part of what God is doing here in the Northwest family! Growing up in Memphis, I did not grow up in a home where Jesus was present. After finding myself in and out of trouble, God took control of my life and allowed me to meet an intentional youth pastor and students who invested in me. At 15 years old, God radically changed my life as I surrendered my life to Him and began to understand His grace and love! I was blessed enough to be a part of leading my mom to the Lord and helping my dad commit to a church once again! At 17, I knew God was calling me to serve Him for the rest of my life vocationally. My story has been and continues to be a story of grace – I have never deserved what God has done in my life and how He continues to use me, yet time after time, I find myself being blessed to be a part of His plan! A passage that has always resonated with me is John 3:30 – He (Jesus) must increase, but I must decrease. My hope is that people see Jesus in me more today than yesterday! When we have free time my wife Amy, and our two kids, Eli and Emma love camping, being outdoors, and eating tacos. I love coaching my kid's sports teams, playing guitar, and being disappointed by Tennessee Vols Football.
David Rogers
Care Minister
David Rogers
Care Minister
Email:
drogers@northwestbible.org
It is a great blessing to serve our church as the Care Minister. As our church embraces brokenness, I seek to lead our care teams in responding to the needs that often accompany it.  I have attended Northwest for several years and joined the staff in 2012. After graduating from Dallas Theological Seminary and developing a counseling practice, the Care ministry is a wonderful place to put my skills and gifts to work for the Kingdom.
I was raised in a Christian home and grew up in church in Brownwood, Texas.  I accepted Christ as a teenager but kept God at arm's length for many years.  After college at Baylor, I returned home to run the family business.  I began serving at a church there, and enjoyed almost 20 years of slow but steady spiritual growth before moving to Dallas.  At Northwest, my spiritual life spiked as my family and I became involved in a small group for the first time.  Some of the greatest blessings in my life are a direct result of relationships developed there and the way God revealed Himself in the midst of life with those people.
I may be known best for my accent, bringing a little bit of the country to the big city.  I love watching movies and playing games with my wife and son.  I enjoy backpacking - my son and I are still working on Mom.  When I'm not reading something, I'm writing something.  A passage that has greatly influenced my ministry is Gen. 2:18, the first crisis in scripture.