What is Baptism?
Baptism is for all who have been transformed by the unexpected joy of desperate dependence on Jesus Christ. In baptism, we publicly identify Jesus Christ as our Savior and participate in His death and resurrection by dying to what separates us from God and by being raised to newness of life in Christ. Through baptism, believers invite others to witness and celebrate what God has done in their lives.
Frequently asked questions
Baptism is an outward expression of inward transformation. We are not saved by baptism or any other good works. We are saved by grace alone, through faith alone, in Jesus Christ, alone.
For by grace you have been saved through faith. And this is not your own doing; it is the gift of God, not a result of works, so that no one may boast. For we are his workmanship, created in Christ Jesus for good works, which God prepared beforehand, that we should walk in them. Ephesians 2:8-10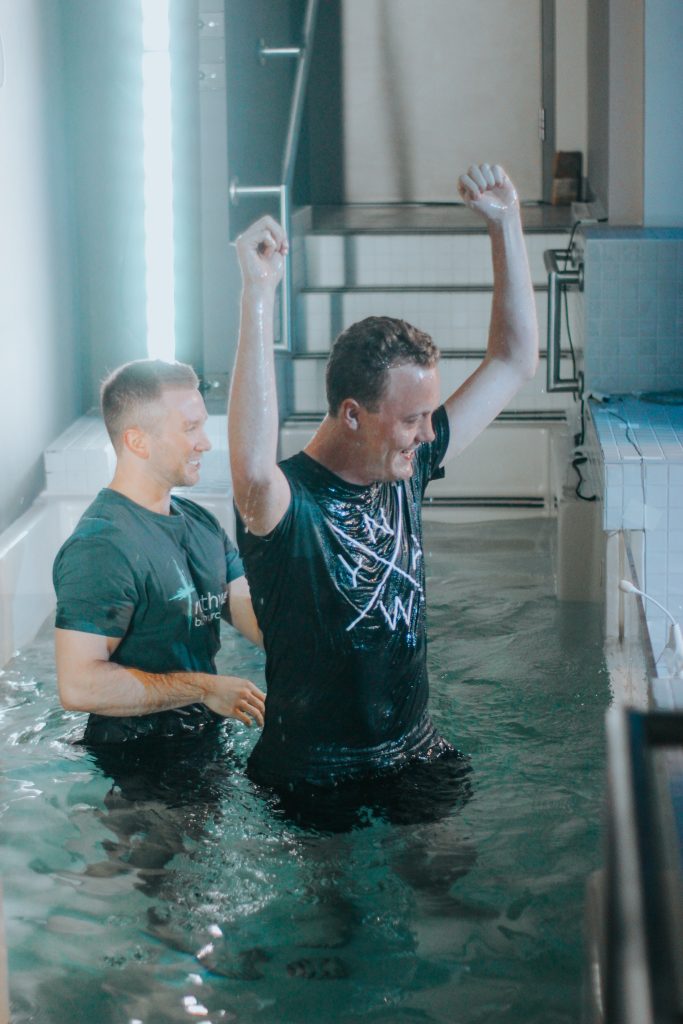 Interested in being baptized?
Once we receive your baptism form, we will follow up and schedule a time for you to connect with a minister! During this time, we want to get to know you, hear your testimony, and coordinate which approved minister will perform your baptism. From there we will schedule your baptism date so you can invite others to celebrate with you and your Northwest family!
Interested in learning more about baptism or want to talk with a minister first? Contact our Connecting Minister, Laura Rose Brillon.
Baptism Staff
Laura Rose Brillon
Connecting Minister
Laura Rose Brillon
Connecting Minister
Email:
lbrillon@northwestbible.org
Alanna Brosey
Group Life Administrative Assistant
Alanna Brosey
Group Life Administrative Assistant
Email:
abrosey@northwestbible.org
I am so excited to serve on the Northwest staff as the Group Life Administrative Assistant. I grew up in Prosper and after graduating from Texas A&M, moved to Houston where I worked in the commercial furniture industry. During my first few years in Houston, God began to move in me and I started seeking Him out. Even though I grew up believing in God, I found Jesus during a mission trip to Nicaragua. This was the first time I really accepted and understood the sacrificial love Jesus has for me. Shortly after, the Lord started nudging me and I began a new journey working for a church where I could serve the body of Christ every day. I am constantly being reminded that God's plans are bigger and better than my own and all I have to do is follow Him. In my free time I am taking classes at Asbury Theological seminary, like to take my dog on walks, paint, play Pokemon, and spend time with family and friends.
David Rogers
Care Minister
David Rogers
Care Minister
Email:
drogers@northwestbible.org
It is a great blessing to serve our church as the Care Minister. As our church embraces brokenness, I seek to lead our care teams in responding to the needs that often accompany it.  I have attended Northwest for several years and joined the staff in 2012. After graduating from Dallas Theological Seminary and developing a counseling practice, the Care ministry is a wonderful place to put my skills and gifts to work for the Kingdom.
I was raised in a Christian home and grew up in church in Brownwood, Texas.  I accepted Christ as a teenager but kept God at arm's length for many years.  After college at Baylor, I returned home to run the family business.  I began serving at a church there, and enjoyed almost 20 years of slow but steady spiritual growth before moving to Dallas.  At Northwest, my spiritual life spiked as my family and I became involved in a small group for the first time.  Some of the greatest blessings in my life are a direct result of relationships developed there and the way God revealed Himself in the midst of life with those people.
I may be known best for my accent, bringing a little bit of the country to the big city.  I love watching movies and playing games with my wife and son.  I enjoy backpacking - my son and I are still working on Mom.  When I'm not reading something, I'm writing something.  A passage that has greatly influenced my ministry is Gen. 2:18, the first crisis in scripture.