We obey God's commands with a commitment to our local communities and places throughout the globe.
Northwest partners financially with over 50 missionary families and 20 missions organizations each year to invite people into the unexpected joy of desperate dependence on Jesus around the world. We strategically invest globally in high investment areas, supporting partners in Cuba, Guatemala, South Asia and South Sudan, where we not only invest with our partners, but also send short-term trips to help support our partners on the ground.
Locally, Northwest invests in our corporate platform, the Northwest Community Center. There, we aim to aid, empower and invite refugees to experience new life in Christ. Learn more about the NCC here.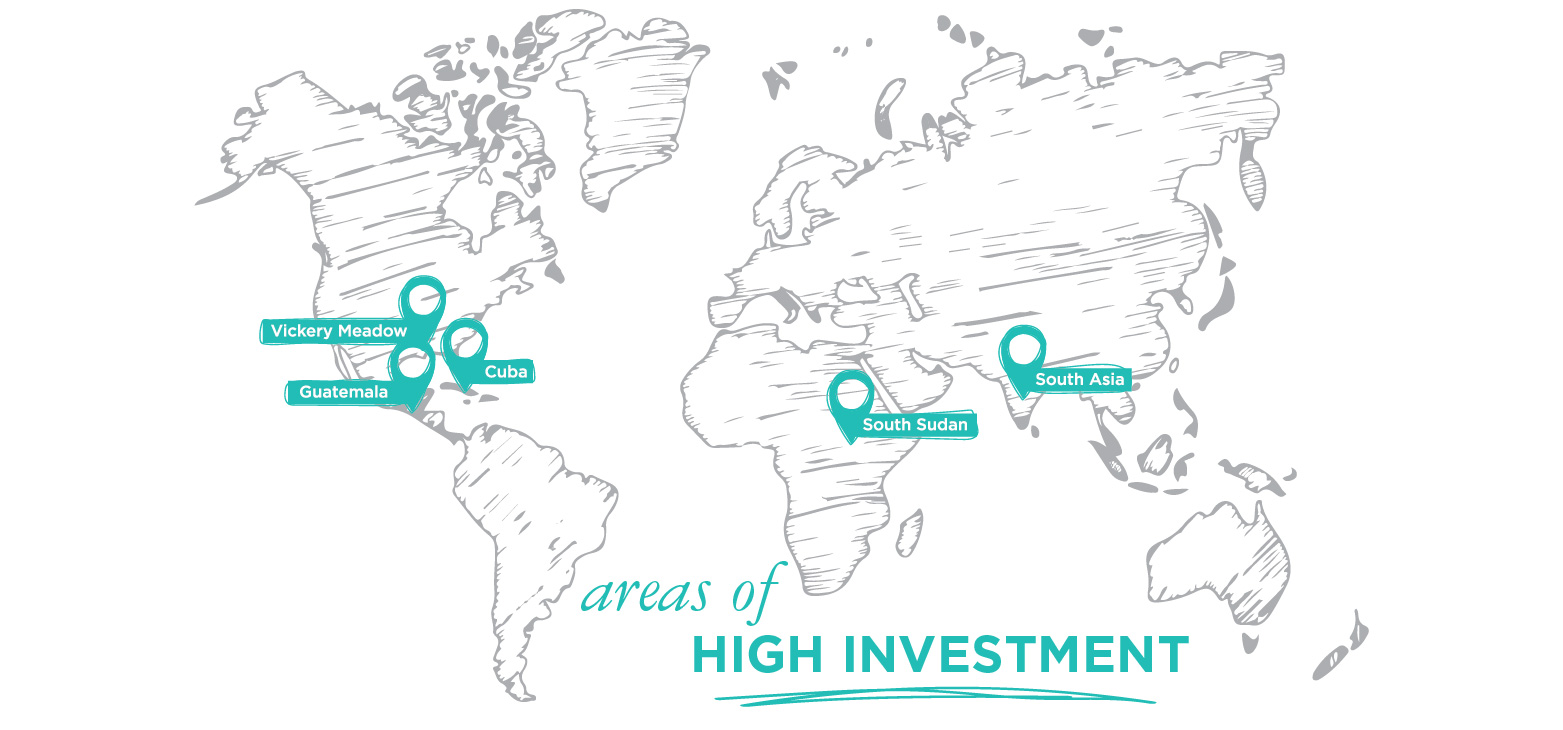 Julia Bigelow
Outreach Administrative Assistant
Julia Bigelow
Outreach Administrative Assistant
Email:
jbigelow@northwestbible.org
I am pleased to serve at Northwest as the Outreach Administrative Assistant. I joined the staff in July 2017 and have been working in ministry support for over a decade. I enjoy working behind the scenes and preparing the details so that loving God and loving others can happen more easily for everyone. My favorite part of ministry is taking the vision and figuring out how to make it happen. My relationship with Jesus began when I was 16 and publicly declared my commitment to Christ through baptism at 23. It's amazing to look through the years at how God has and continues to draw me to Himself using every aspect of my life- nothing has been wasted! I am married to my husband Josh and stay active keeping up with three energetic children and a menagerie of pets at home. Each day, I experience a new facet of the unexpected joy of desperate dependence on Jesus, and wouldn't trade it for anything!
Jessie Browning
Sports & Fitness Operations Coordinator
Jessie Browning
Sports & Fitness Operations Coordinator
I am honored to serve as the Sports & Fitness Operations Coordinator here at Northwest Bible Church. I joined the Gym at Northwest's team in February of 2018 after working in ministry settings for 4 years. Shortly after moving to Dallas for seminary, I began attending Northwest before coming on staff. Through a series of God-orchestrated events, I was extremely excited to become a part of what God is doing through the platform of sports and fitness. I am currently studying Christian Education and Leadership at Dallas Theological Seminary and I love being able to immediately practice what God is teaching me through my coursework. 
I was blessed to be raised in a Christian home with parents who taught me about God at a young age. At the age of 6 I trusted Christ as my personal savior. Throughout high school and college I began to study God's word for myself and truly begin to know who God is. At this time, I started volunteering in various ministry settings and fell in love with creating opportunities for others to know God more and connect with others. I love working n the Sports & Fitness ministry because it gives me the opportunity to connect with believers, but also those who may not know who Jesus is. I am privileged to be able to build relationships with those athletes with the goal of sharing the love of Jesus with them. 
In my free time you can find me doing almost anything, but the common denominator is you will find me with people. I love to travel and explore new places, try new foods, get a good cup of coffee, play with puppies (in hopes that one day I will have my own), and soak up the sunshine, but the best part of each of those things is doing it with those that I love. My favorite passage for this season of my life is Matthew 6. This passage has grounded me in a season of transition and constant change, these verses remind me that I have a God who cares for me and will meet every physical, emotional, and spiritual need that I have. 
Jean Congera
Refugee Ministry Leader
Jean Congera
Refugee Ministry Leader
Email:
jcongera@northwestbible.org
I'm honored to serve as a Refugee Ministry Leader here at Northwest Bible Church. In January 2007, I joined Northwest Bible Church after being resettled in USA from a life of Refugee camps. After being rescued by the Lord from many wars, I was very hungry to find a church where I could go and say thanks to God for His rescue. After getting connected with Northwest Bible church, I became the secretary of the African Refugees Fellowship which later became the African Missionary Fellowship. I joined the Northwest staff in 2012 as an Event Specialist, but I had a burning desire to help refugees more.  Finally, on August 18, 2014, God gave me more time to save refugees, who are where I was many years ago. Prior to my current position, I was privileged to serve refugees when I was working at the International Rescue Committee in Dallas.
Although God rescued me from wars, I did not know what it meant to be a Christian. In 2005 God used His voice in miraculous way and I started believing in Him. After getting saved, I had a problem of thinking that I had to work hard to be accepted by God, but later I came to understand that my righteousness is through Jesus Christ alone, by God's grace, and I surrendered everything to Him. Since then I am desperately depending on Jesus for everything, because apart from Jesus, I can do nothing.
I am married with two children, and I am blessed to have a large extended family living here in Dallas. My main dream is to share the message of grace to all I can. I feel like God has created me to preach the gospel to all. I am still serving in the African Missionary Fellowship as one of several leaders, and in my spare time I like to visit my relatives and friends. My favorite bible verse is Ephesians 2: 8-9 "For by grace you have been saved through faith. And this is not your own doing; it is the gift of God, not a result of works, so that no one may boast."
Jeff Cross
Interim Refugee Ministry Director
Jeff Cross
Interim Refugee Ministry Director
Email:
jcross@northwestbible.org
I joined the team at Northwest Bible in August 2019 and am excited to serve as Interim Refugee Ministry Director at Northwest Community Center. In late 2007, I became friends with a refugee family from Togo. I continue to value my times of fellowship with them, from meals to school graduations. It is now my privilege to serve alongside a team of ministry leaders, volunteers and community partners to assist refugee families in their transition to a new life in Dallas.
After working more than twenty years in the corporate sector, I spent nine years in the nonprofit sector -- most recently serving as Director of Operations at an organization which helps adults achieve educational goals and attain financial stability.
I was raised in church, yet long held a belief that good works were necessary to enter heaven. I attended college at University of Texas-Arlington, where I enrolled in a Christian Evidences course my Freshman year. It was through that study that I gained an understanding of who Jesus is and accepted Him as my Lord and Savior. My enrollment in Bible Study Fellowship was instrumental in a growing relationship with God. After a few years I began serving as a BSF small group leader, and I was baptized at a Summer retreat. I began attending Northwest Bible Church, was plugged into an encouraging men's small group, and became a member of the church. I have served on the Northwest Cares Committee, assisting families in our church body through short term financial challenges.
I enjoy spending time with my family and friends, following the "Big Four" professional sports teams in Dallas and attending UT-Arlington basketball games. Volunteer service is important to me, whether helping out at a local food pantry or facilitating a financial literacy course. I have a pitbull pup and enjoy walking her around our neighborhood on the westside of downtown Dallas. Micah 6:8 encourages me to pursue justice, extend kindness and to be humble as I serve our city.
Sam Lau
Refugee Ministry Leader
Sam Lau
Refugee Ministry Leader
Email:
slau@northwestbible.org
I am honored to serve Northwest Bible Church as one of the
Refugee Ministry Leaders
at the Northwest Community Center. I am currently also a member of Christar, a church planting organization that works among the least-reached peoples of the world. My wife, Charis, and I have been with Christar for 10 years now and previously served with them overseas. It is a privilege to serve God among the least-reached wherever we are. 
I grew up in a Christian family and came to faith at the age of five through the testimony of my mother. A concern for disadvantaged and marginalized communities coupled with a challenge to consider missions resulted in a commitment to serve God in a cross-cultural setting. That led to enrolling at Dallas Theological Seminary (where Charis and I met) to gain a more solid biblical and theological foundation, joining Christar, and then moving overseas to serve cross-culturally. After returning to the States, Christar's refugee emphasis led me to the NCC. 
Charis and I have two children, whom we love dearly. They are a source of much joy and laughter in our lives. I enjoy spending time with my family, reading, following the Golden State Warriors and Oakland A's, trying new foods, traveling, and making things.
Brian Lonergan
Sports & Fitness Minister
Brian Lonergan
Sports & Fitness Minister
Department:
Outreach, Sports and Fitness
Email:
blonergan@northwestbible.org
I am thrilled to serve as the
Sports & Fitness Minister
at Northwest since 2007 and that Northwest has been my church home for more than twenty years. In 2007, I transitioned out of the corporate world to focus my time fully on ministry to high school students. In 2013 I transitioned to the new role of
Sports & Fitness Minister
to develop the Sports & Fitness ministry where I get to combine my love for sports and fitness with my passion for outreach and discipleship.
Without outreach, I would have never known who Jesus was and without discipleship I would have never grown in my faith. When I was 15, I was introduced to Jesus through the outreach efforts of an old man who loved Jesus so much that he wanted to share Christ with everyone around him (whether he knew them or not). Knowing that athletes require more than just attention to their physical build, l am honored by the opportunity to address their spiritual needs as well. I strive to utilize the platform of sports and fitness to show and share the gospel and ultimately ignite the potential of athletes beyond the field of play. 
Katy Nieman
Outreach Director
Katy Nieman
Outreach Director
Email:
knieman@northwestbible.org
I am so thankful to have served as the
Outreach Director
at Northwest since January 2015. After working in the finance industry for eight years, I was thrilled to put my passion into my workplace and my career.
When I was in high school I began attending church because I loved the company of my friends that were there. Being raised Catholic I knew the right answers but leaving for college I discovered that I lacked dependence with my Savior. I decided I didn't want to just live a good life; I wanted to live my life for Christ. Through my years in college I grew in my faith and my excitement for living out God's great commission. I have had the opportunity to attend mission trips to Boston, New York, and a summer in Perth, Western Australia, all of which grew my desire to serve others and shower them with the love of Jesus. In this job, I have loved combining my passion for logistics and missions by
Facilitating Victory
. I love creating systems and engaging relationships that lead us to God's Kingdom, which is the ultimate victory.
I love sports, and I'm an avid, life-long Texas Rangers fan and have become an Oklahoma Sooner fan through marriage to my wonderful husband. I also love spending time with friends, I love baking and cooking on occasion, and I love to travel. But above all else my favorite thing to do is to spend time with my husband and our daughters playing, laughing and just enjoying life. The Lord has reminded me lately through Psalm 125:1-2 of His unending strength and mercy, "Those who trust in the Lord are like Mount Zion, which cannot be shaken but endures forever. As the mountains surround Jerusalem, so the Lord surrounds his people both now and forevermore." 
Ruth Stevens
Refugee Ministry Leader
Ruth Stevens
Refugee Ministry Leader
Email:
rstevens@northwestbible.org
I am thrilled to serve as a Refugee Ministry Leader at Northwest Community Center in Vickery Meadow. Growing up as a missionary kid in Germany, Russia, and Hungary gave me a heart for internationals and cross-cultural ministry. With the desire to be better equipped for kingdom work, I attended Moody Bible Institute in Chicago. After graduating with a degree in elementary education, I taught for two years at an international school in Ankara, Turkey. My time overseas gave me an empathy for those who are navigating life in a new culture. After teaching in Turkey, I spent several months working with orphans in Brazil before settling in Memphis, Tennessee. I had the privilege of teaching third grade until God called me to Texas to attend Dallas Theological Seminary. During this time, I spent a year as the Outreach Resident at the NCC and experienced refugee ministry in Dallas. I graduated in May 2019 with my Master's in Christian Education and an emphasis in Women's Ministry. I am so excited to continue my involvement in refugee ministry as a full-time team member at the NCC.
I grew up in a Christian home and became a believer at a young age. I realized that my parents' faith could not save me, and I needed to make a personal decision to follow Christ. I believe that God has called me to Invite Connection. I am passionate about inviting others to connect deeply with God, His Word, and His people. I look forward to helping others engage with our refugee neighbors through volunteer opportunities at the Community Center.
I love outdoor adventures, traveling, reading, painting, and spending time with my six nephews. I am currently on a National Parks kick. My favorite trips have been hiking the Mighty Five in Utah and exploring Glacier National Park in Montana. When I'm in Dallas, you can find me at White Rock Lake or eating tacos.
Frequently Asked Questions