We're continuing to have surprisingly easy-to-start conversations about Jesus all over our city because we are convinced, where God has us is where Jesus is.
NEW TO NORTHWEST?
Are you new to Northwest? Or have you been attending for a while and are ready to grow in community? Fill out our connect card so we can get you connected to Northwest! You'll also receive our weekly emails and info about upcoming events!
Welcome Lunch | Sundays, September 18 or October 23, 11:45 AM
Connect and learn more about Northwest at an on-campus lunch. Childcare provided. Limited seats available. Registration required.
Those who are new(er) to Northwest are invited to join us for a dinner at the Tomba's house to get to know Neil and Vela and learn more about Northwest. Childcare available. Limited seats available. Registration Required
WORSHIP • GROUPS • SERVE
connect & grow with our entire church family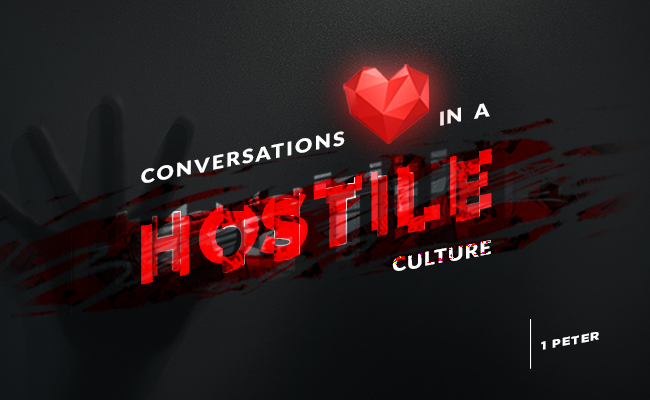 1 Peter | Fall Sermon Series
In today's post-Christian culture, simply being a Christian can be viewed with hostility.
Beginning Sunday, September 11, Pastor Neil Tomba will lead us through a fall sermon series through the book of 1 Peter called "Conversations in a Hostile Culture" where we will explore how to talk about Jesus with those around us when the very idea of Jesus seems countercultural.
Join us on Sundays each week at 9 or 10:35 a.m.!
Wednesday Night Dinners | Wednesdays starting September 14, 5:15-6:30 PM
Connect with our Northwest community weekly through a casual, family-style dinner on campus in our Christian Life Center. Dinners are $5 for adults and $2 for children. Credit cards only.
Discover how you can serve refugees and join our corporate divine platform*!
Check out our Northwest Community Center website to learn about our fall programs and see where you might serve. Opportunities include impacting refugee kids through our elementary After-School and Youth Tutoring programs, as well as building relationships at Women's Conversation Club or Youth Group Meetings. Join us as we aid, empower, and invite refugees into new life through Jesus! *Learn more about divine platforms and the vision that drives us as a Northwest church family!
We have groups that are centered around life stages as well as those that span different generations. Meeting days and times vary throughout the week based on each group. Let us know what type of group you're looking for by filling out our small group interest form.
MEN & WOMEN
We need each other as we grow in our understanding of God and his Word. Whether you are looking for a mentor or would like to be a mentor, please visit our website. We will next match mentor and mentees in mid-January.
If you're interested in entering into a life-transforming relationship with other men through intergenerational mentoring, please fill out the interest form. Groups meet at various times and locations to better accommodate your schedule.
Women's Empty Nest Group

| Tuesdays beginning September 6th, 9:30-11 AM | Offsite
This group is a safe place for women to transition in their identity and role as "mom", into the unknown and uncharted territory of the "Empty Nest". Come journey with others as we pray, laugh, and support each other and are reminded of our true identities in Christ. We will be discussing the book: Susan and Barbara's Guide to Empty Nest.
Men's Fall Groups

| Beginning Wednesday, September 14, Various Times & Locations
Study with a community of men and remember in the midst of hardship, that the God who deserves all praise is still "the one who is able to keep you standing upright." This season, we are studying 1&2 Peter and Jude in a 9-week study by N.T. Wright.
Men's Breakfast

| Third Thursday of every month beginning October 20, 6:30–7:30 AM
Join other men at Northwest once a month for a free breakfast as we discuss what it means to be men of courage in our world today.
Women's Fall Groups | Beginning Wednesday, September 14th, 6:30–8 PM and Thursday, September 15th, 9:30–11 AM
Join us for small group discussion and prayer as we study Before the Throne by Crickett Keeth. By learning from eight prayer warriors in Scripture, we will find strength in God through prayer when life gets overwhelming. Books available at Lifeway, Logos Bookstore, or Amazon. Childcare available with registration.
Learn about the NEW Men's Ministry over dinner and fellowship and discover your courageous calling. Childcare available.
Launch into Motherhood | First Time Moms Group | Tuesdays, Oct 18–Nov 22, 1–2:30 PM, Offsite
Find support and wisdom as you begin motherhood.
Game Night

| Sunday, October 2, 4-6 PM
Calling our Northwest Bible Church family! Join us for a night of building relationships over games and fun. Snacks provided! Childcare is available for kids 5 and under.
CHILDREN & STUDENTS
Children's Ministry

| Sundays, 9 & 10:35 AM & Wednesdays, 6:30–8 PM
Nursery, Preschool, and Elementary programming for children ages birth through 5th grade.
Northwest Preschool

| Tuesdays & Thursdays beginning in September, 9 AM–2 PM
Enrollment is now open! Northwest Preschool has a few spots remaining in the 2, 3, and 4-year-old classes. Please contact pmartell@northwestbible.org for more info!
Middle School | Sundays, 10:35 AM & Wednesdays, 6:30–8 PM
Middle school students meet every Sunday morning in the Theater on campus. Students are also invited to join us for games, food, and Bible study each Wednesday evening in the Theater.
High School

| Sundays, 10:35 AM & Wednesdays, 6:30–8 PM
High school students meet every Sunday morning in the Theater. Come each Wednesday as we answer real questions high school students are asking.
Drop off your kids here at the church and take the opportunity to go on a date, go shopping, or sit at home and watch a movie! A pizza dinner will be provided for kids age 1 year and older. Parents' Night Out is offered for parents of kids of age Birth–5th Grade. The cost is $10 per child.
FALL FUN FEST

| Wednesday, October 26, 5:30-8:30 PM
Bring your friends and join us for an evening of FREE family fun, right here at Northwest! From inflatables, stage performances, and food, there's something in store for all ages.
YOUNG ADULTS
The Well | 1st & 3rd Tuesday each Month beginning August 16, 7 PM
Come gather in the Theater on campus with other young professionals in their 20s and early 30s at The Well for a time of life-giving worship, fellowship, and teaching. This season we will be studying Ecclesiastes and how to maximize fulfillment by chasing what really matters.
Small Groups | Various Times & Locations
Grow your community with other young adults by studying the Word of God and doing life together. Groups meet on various days and times to better fit your schedule. Fill out our group interest form.
Socials

| Various Times & Locations
Join us for a monthly gathering with other young adults for fun and fellowship! We're having a Summer Shindig event on August 26, a social on September 24, a fall retreat in October, and a Christmas Party on December 4.
MARRIAGE
Join a Sunday morning gathering of young marrieds (20's-30's) where you can find fun, fellowship, and both Biblical and topical teaching relevant to your marriage, family, life, and career.
Marriage Prep | Sundays beginning September 25, 10:35–11:45 AM
If you are considering marriage, join us for a 10-week small group study on campus designed to prepare, guide, and empower pre-engaged and engaged couples to build a Christ-centered marriage. Registration required.
SENIOR ADULTS
Join us as we discuss topics regarding faith, aging, and the truth of Scripture. Our hope is to grow older, wiser, and more faithful as we study God's Word together.
3 Score Luncheon

| 4th Tuesday each Month, 11:30 AM
Senior adults are invited to join us for lunch and a time of encouragement, Christ-centered fellowship, and inspiration. Registration required.
CARE
Men's and women's small groups work through a 12-step curriculum to process pain and restore relationships.
Ongoing groups providing encouragement, support, truth, and community during times of struggle, transition, or ongoing growth.
Divorce Care | Thursdays, beginning September 8, 7-8:30 PM
Divorce Care's life-changing support groups welcome people and guide them on the path of recovery after separation or divorce. In this 13-week, video-based series you'll find caring people who understand the issues you face and practical counsel for decision-making and managing stress.
Grief Share | Thursdays, beginning September 8, 7-8:30 PM
Grief Share is a friendly, caring group of people who will walk alongside you through one of life's most difficult experiences. You don't have to go through the grieving process alone.
Sexual Integrity 101

| Sundays, beginning October 2, 9 AM | CLC Room 205
This course will show how shame and grace affect the healing process, give understanding about addiction and betrayal trauma, and get you started on the path to sexual health.