WEDNESDAY, APRIL 14
We're celebrating all God has done through your Faith Promise giving over the past year with dinner and a special program! Celebrate in person or virtually.
Learn more!
World Passion Week | "Open Doors"
Despite a global pandemic and social unrest around the world, God is opening doors to share the hope of the Gospel here, near, and far.
Join us to hear stories of God's faithfulness to further the good news of Jesus through Northwest and our missions partners worldwide, even in the face of historic challenges. God's work continues through newly opened doors of opportunity when previous ones were shut due to COVID!
---
WHAT CAN I EXPECT DURING WORLD PASSION WEEK? Our annual World Passion Week features a unique time of worship on Sunday morning focused on missions and events throughout the week to further engage in God's work around the globe. We also kick off our annual Faith Promise Campaign during World Passion Week to collect pledges for all the funds needed for our missions budget over the next year.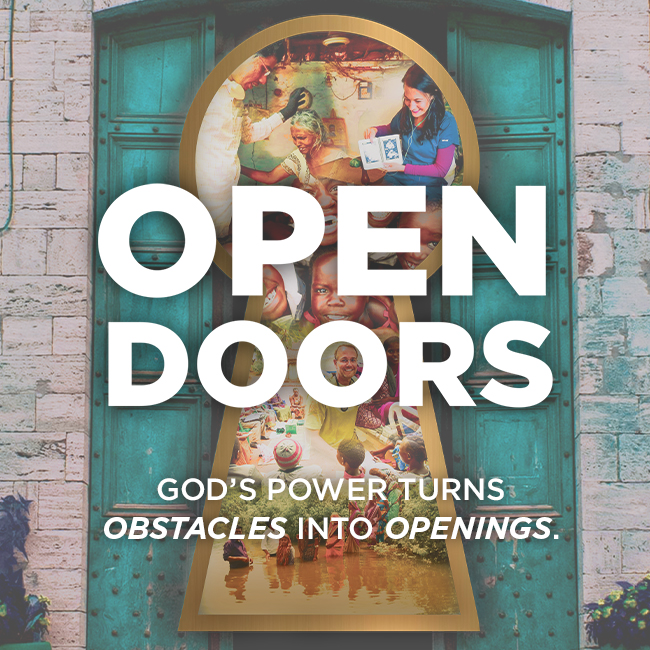 FAITH PROMISE
CAMPAIGN
Northwest's annual missions budget is based solely on the total number of dollars promised through our Faith Promise Campaign each year beginning with World Passion Week. We invite you to participate in God's work around the globe by completing the pledge card online. If you prefer a physical card, you can find one during Sunday morning worship beginning April 11 or contact the church. Physical cards may be returned via mail or in person at the church offices or on Sunday morning. Cards must be submitted by Sunday, May 2 to be included in the missions budget for next fiscal year, which begins July 1, 2021.
What does the Missions budget
at Northwest support?
We have five high investment areas: Cuba, Guatemala, South Asia, South Sudan, and the Northwest Community Center in Vickery Meadow, here in Dallas. Each year, we send short-term trips to help support our partners on the ground. In addition to our refugee outreach at the Northwest Community Center, we support 71 missions partners across 6 continents.
Click the photos below to learn more about what the missions budget at Northwest supports!
SUNDAY, APRIL 11
Join us for a unique time of Sunday morning worship at 9 or 10:35 a.m., either in person or online, to celebrate God's unstoppable work through missions over the past year!  Hear stories from 4 of our missions partners from South Asia to Brazil to Africa to the U.S. Everyone is welcome and registration is not required for a seat in the Worship Center, but if you plan to bring children birth–5th grade for children's programming, let us know they're coming! Find registration info here.