Project details & updates
Find important news, construction updates, and additional resources throughout the renovation process to keep you informed and connected to ministry at Northwest!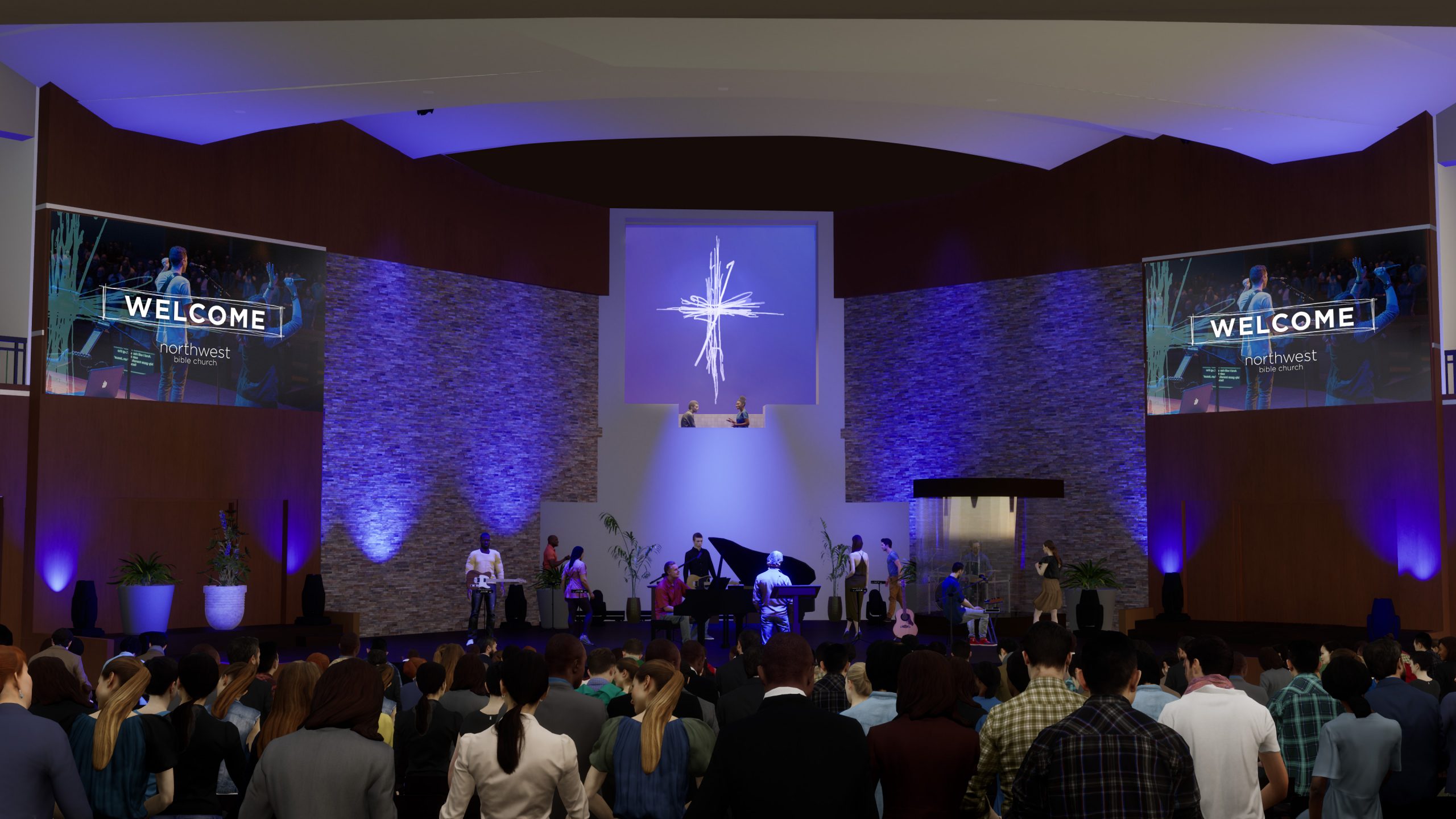 Worship Center Reopened!
September 25, 2022
---
We celebrated the reopening of our Worship Center with special services, baptisms, and a church family picnic.
We loved worshiping with you and celebrating the Lord's overwhelming goodness to Northwest through this renovation process. We hope you'll join us any Sunday at 9 and 10:35 a.m. to experience our new space and see the "messy cross" above the stage!
Reference our campus map to familiarize yourself with our campus and find the location of the Worship Center building. If you're visiting for the first time, check out guest info here. We can't wait to welcome you this Sunday!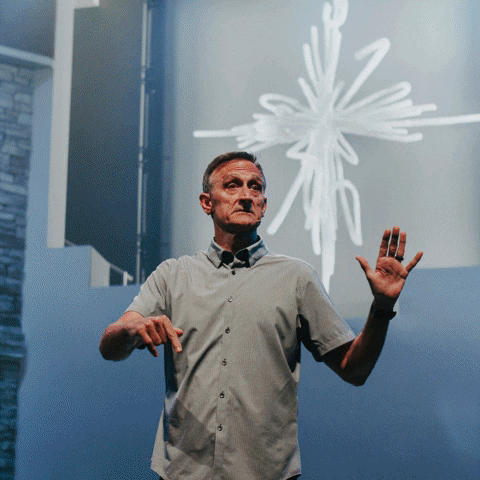 Construction Progress:
August 28, 2022
---
We've got an exciting update you've been waiting all summer for!
Renovations to our Worship Center stage will be complete in mid-September as scheduled, and the first services back in our Worship Center will be on Sunday, September 25! We hope you'll join us then for either the 9 and 10:35 am service.
If you began attending Northwest any time after Easter, you may not know where the Worship Center is! Reference our campus map to familiarize yourself with our campus and find the location of the Worship Center building.
For a reminder of WHY we needed to renovate the stage in our Worship Center, the scope of the project, as well as some FAQs, check out a message from Neil.
Remember that our heart behind the project is this: making sure our worship gathering space is inviting and conducive for corporate worship, going back to our mission of "Inviting people into the unexpected JOY of desperate dependence on Jesus!"
As a way to say "THANK YOU" for your generosity that made the cash completion of this project possible and for coming along with us on this journey, we have a churchwide picnic celebration after services on September 25. We'll enjoy BBQ, bounce houses, etc, all for free. We can't wait to see you there and celebrate!
We'll send an email closer to the date of our first Sunday back in the Worship Center with more information!
Construction Progress:
August 2, 2022
---
Demolition of our existing worship center stage began shortly after Easter. Here's a look at where things are now!
Our construction crew has been working hard and making great progress. Here are the highlights:
The building phase of the project is underway with walls being built, flooring being shipped, and stone soon to be delivered.
The "messy cross" material has been approved and is beginning the fabrication process.
New screens, lighting, and technology are being purchased and delivered shortly.
Our target date for completion and re-opening is still mid-September.
Join us for worship services in the Christian Life Center (CLC) until we're back in the renovated space! We would love to welcome you!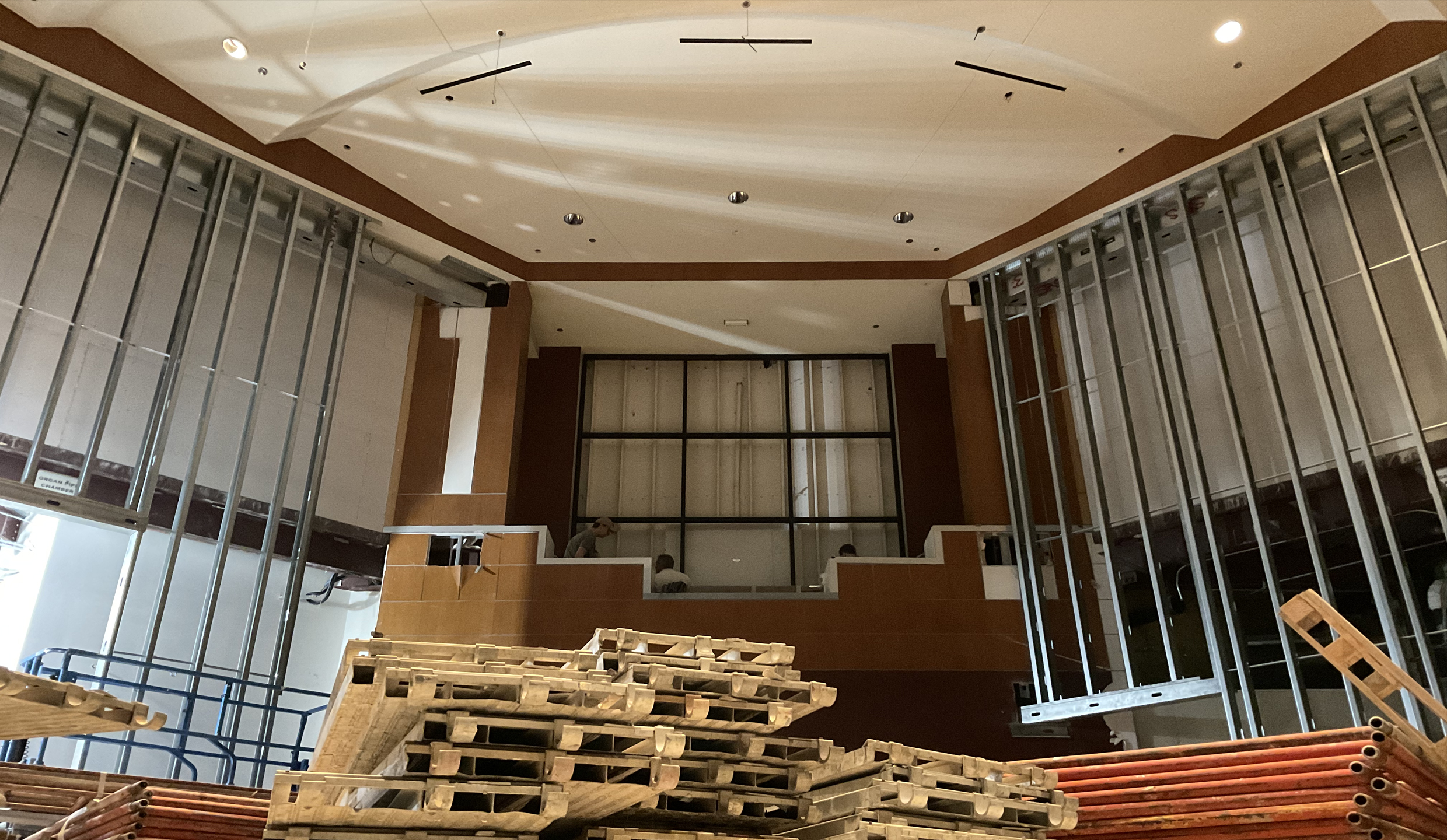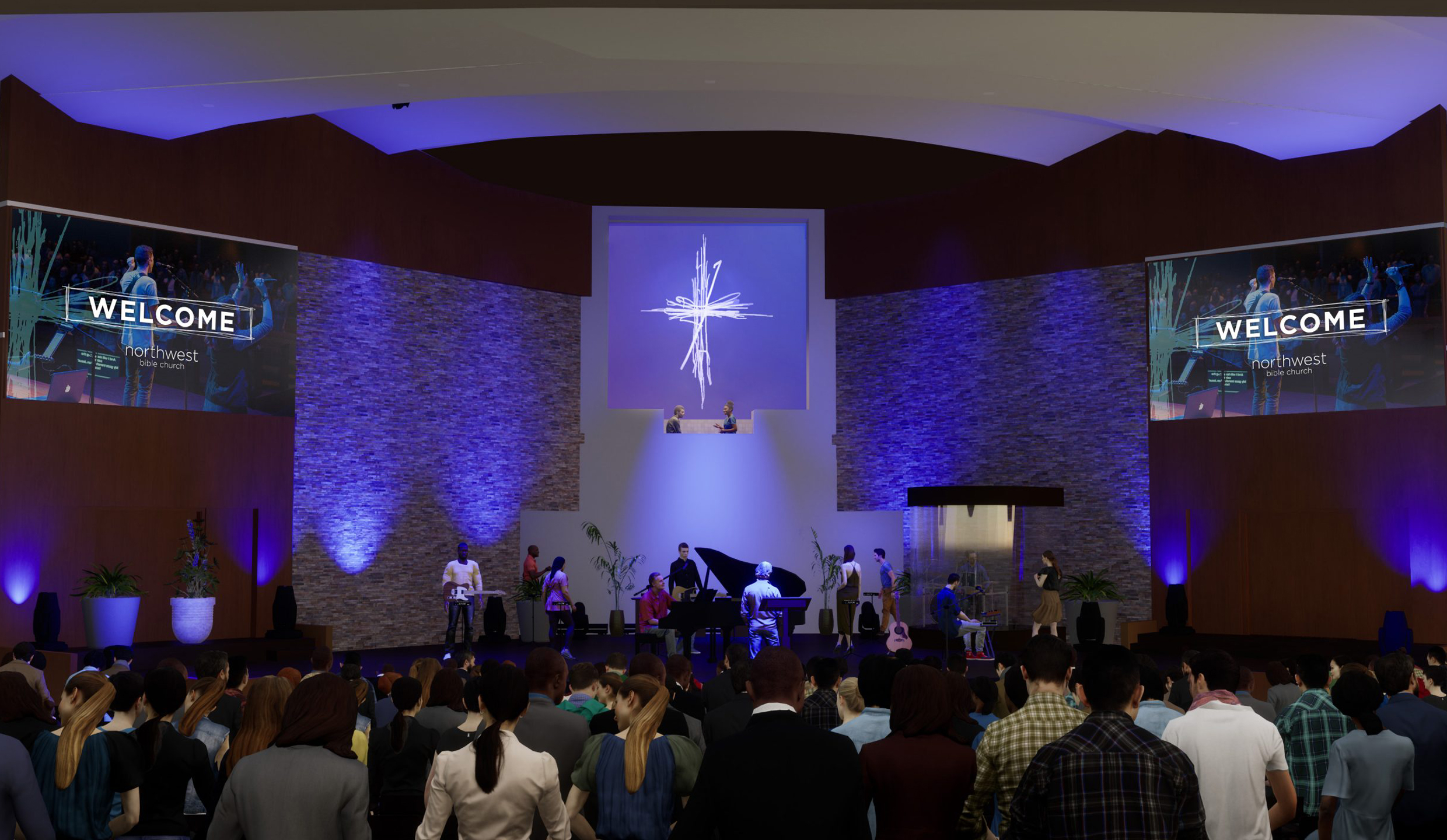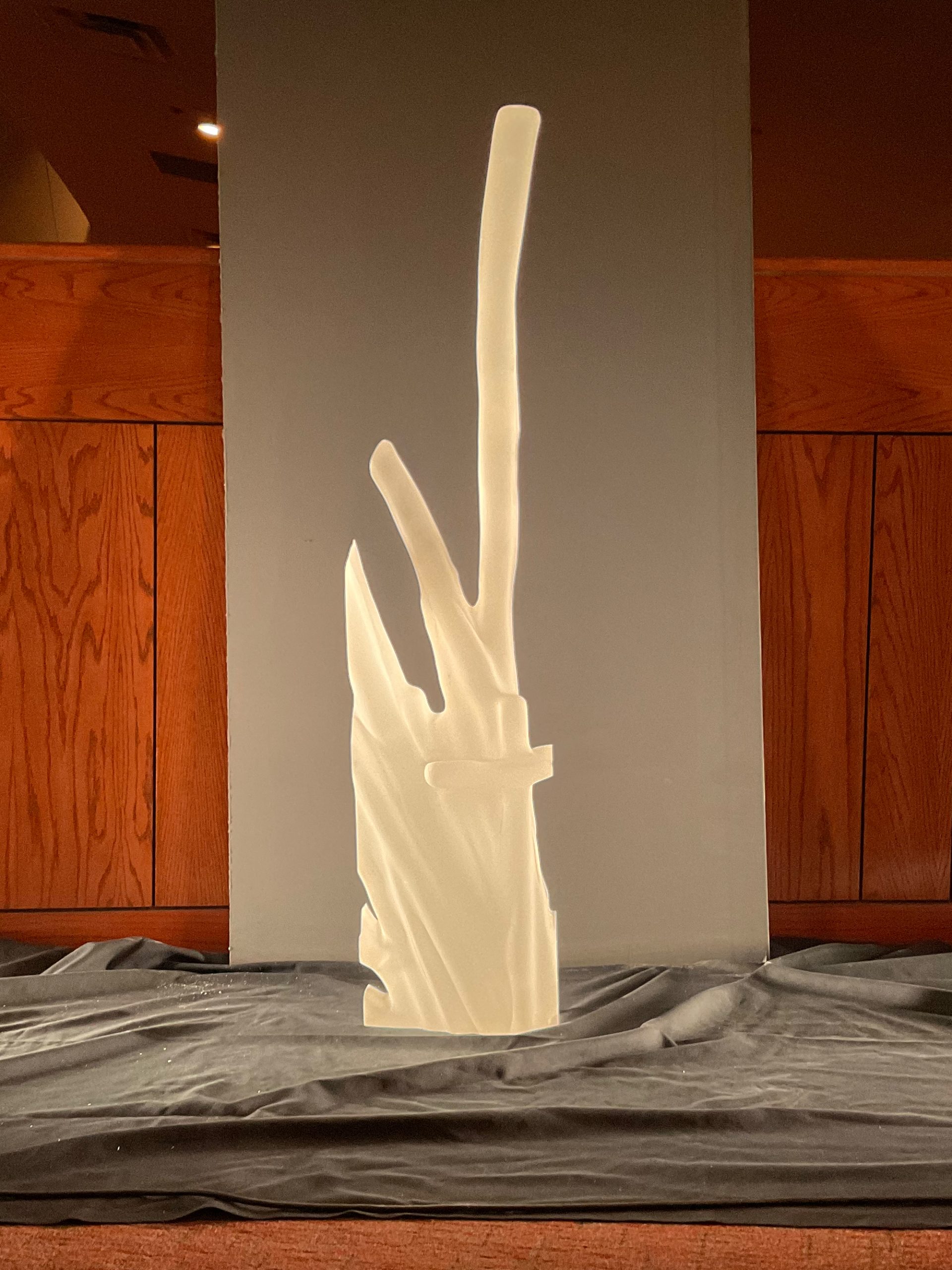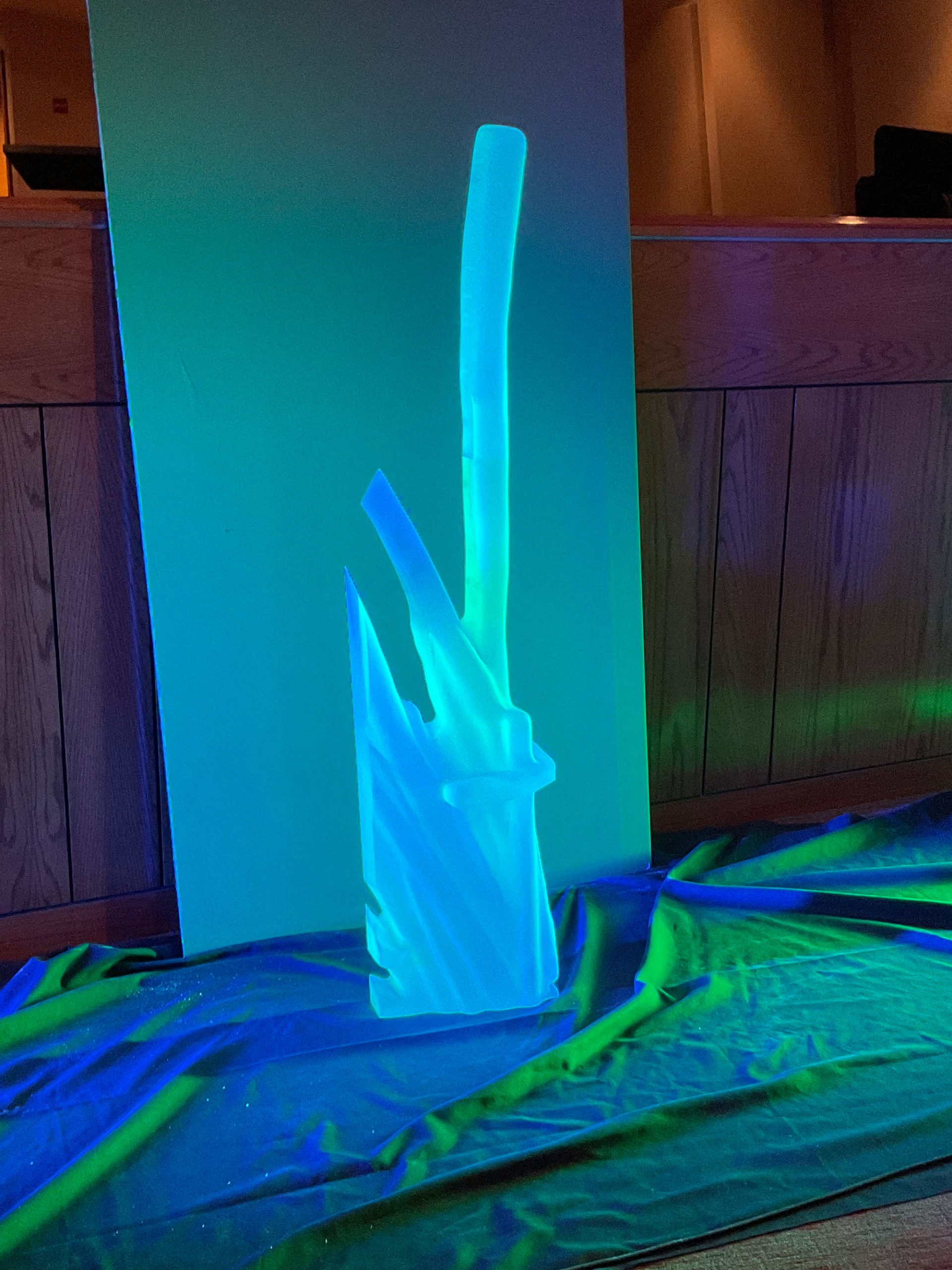 This is a full size section of our new cross art installation for the area above our baptistry.
Our artist has been working with the production company to ensure the end product accurately reflects the cross from our logo. What you see here is actually upside down, as the piece shown is a section of the bottom of our cross. It is made of frosted acrlylic, which means we'll be able to light it in a variety of ways to highlight it well and reflect the current mood of worship in our new space at any given time.
We're excited to have this new piece of artwork displayed prominently above our renovated worship stage as a symbol reflecting Jesus, the true subject of our worship! We can't wait for you to see the finished product!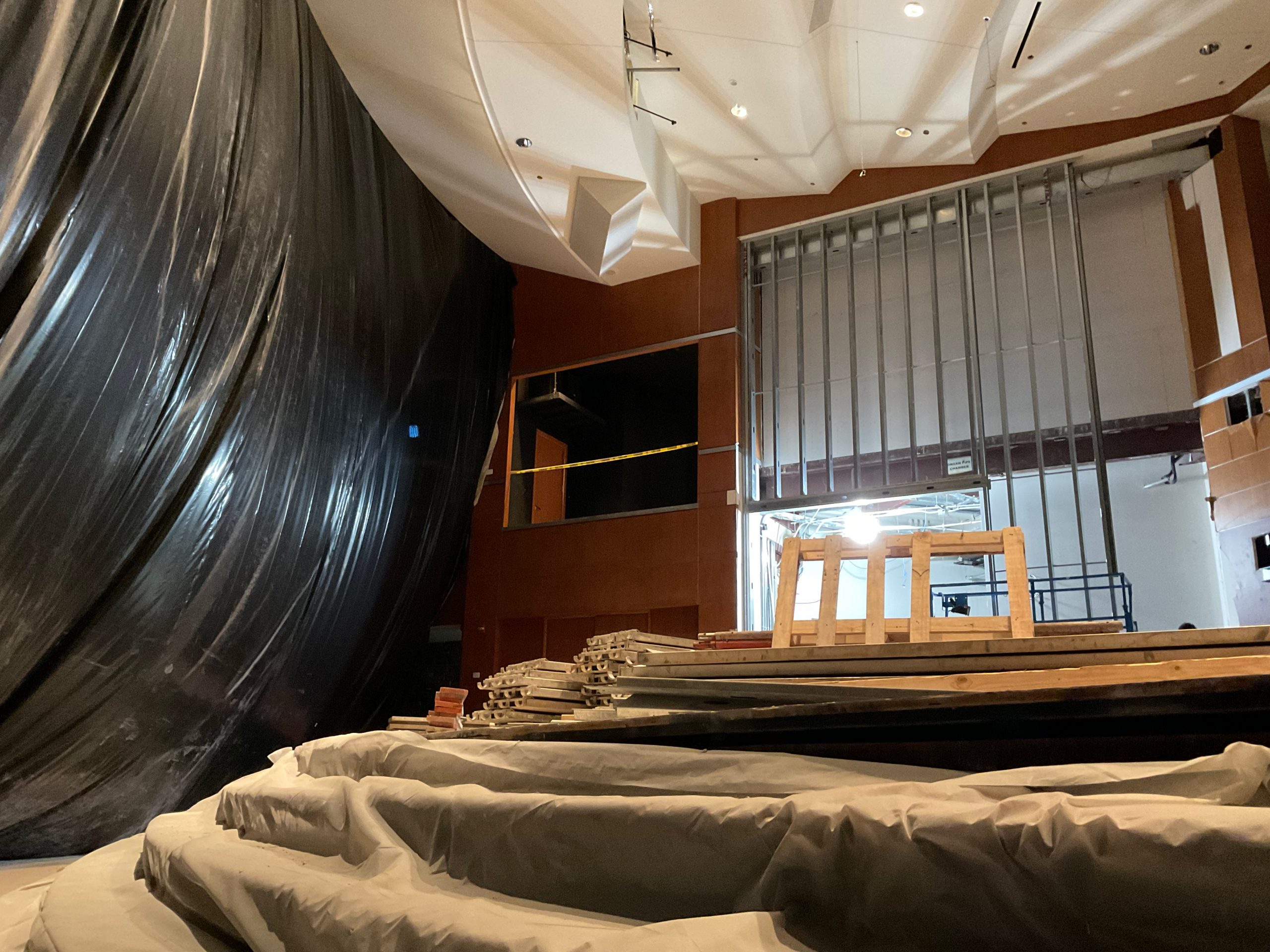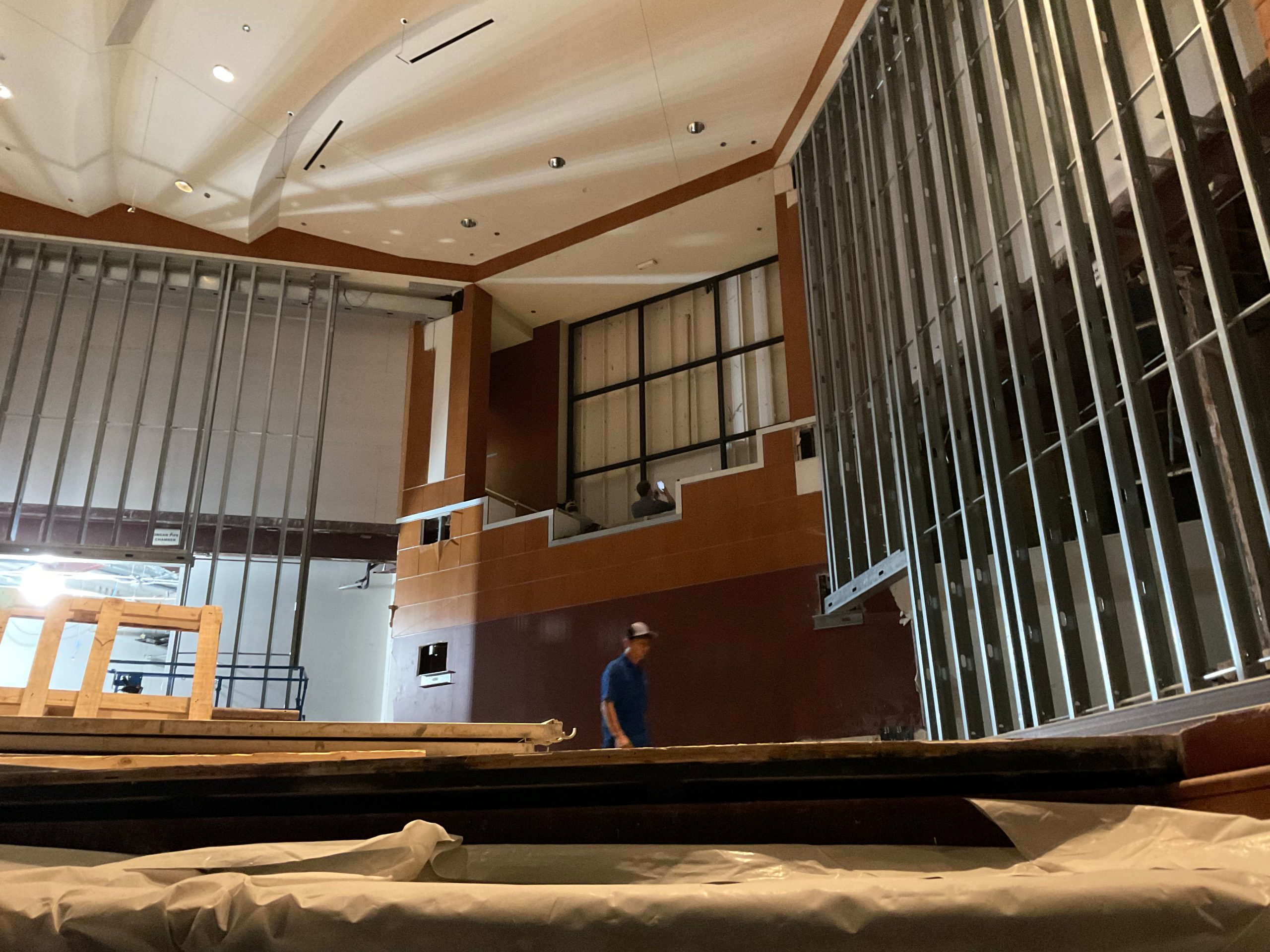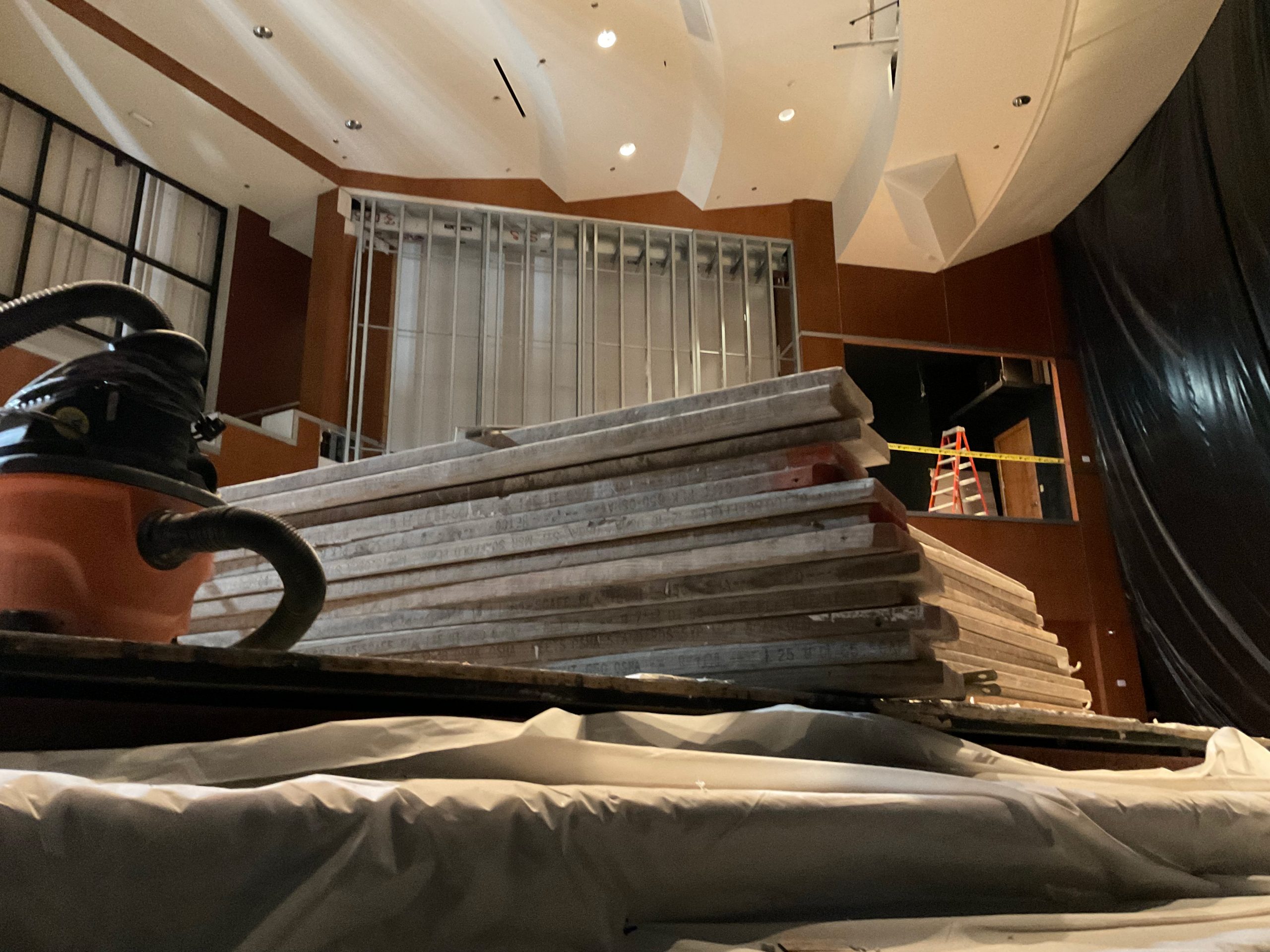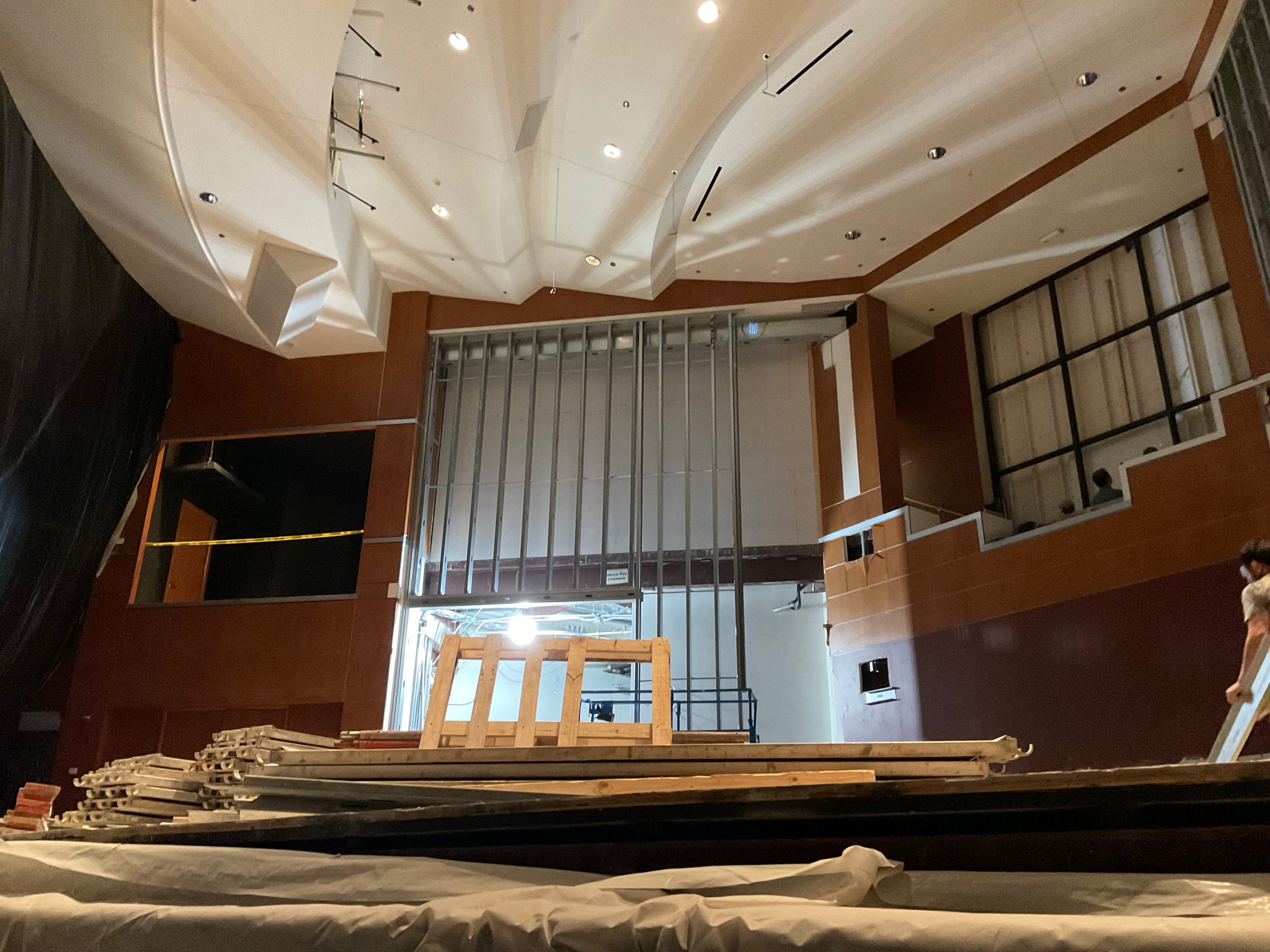 A note from pastor Neil:
March 3, 2022
---
We have been praying for quite awhile about
renovating our worship stage and now is the time!
Five years ago, we started making plans for this project. The catalyst for this was that our 20-year-old technology was out of date and beyond repair, including our screens, projectors, and so much of what is visible. For the last five years we've compensated by using a temporary center screen run by a temporary projector. After three years of lots of planning and work by our staff, Elders, and people in our church body, we are ready to renovate the stage and the upfront portion of our worship center.
The heart behind all of this is our mission of inviting people into the unexpected joy of desperate dependence on Jesus.
We know that our worship here on Sunday morning is critical to that. It is the one place that we all gather. It is so important to make sure that this space is effective, conducive, and attractive for our worship and that of future worshipers. 
Our "messy cross" will be at the center of this renovated space. Our messy cross artistically conveys the truth that through Jesus' finished work on the cross, God takes the broken pieces of our lives and makes something beautiful out of them, giving all of us a unique divine platform to have conversations about Jesus.
Our worship stage renovation project will begin the week after Easter (which is April 17), and run through the middle of September. We have the funds in cash to complete this project, and we're so thankful for the Lord's provision!
Renovation timeframe: The worship center will be closed after Easter, beginning with Monday, April 18, and will reopen in mid-September.

Sunday morning worship services will be held on campus in our Christian Life Center starting with Sunday, April 24 (week after Easter).

Livestream of Sunday morning worship services continues throughout this timeframe at both 9 and 10:35 a.m.

Staff and church leaders have made plans to allow us to continue our on-campus ministry throughout this timeframe.
Find FAQs below for additional information. If you still have questions, please check with your ministry leader for ministry-specific details or email feedback@northwestbible.org. We will update this page with more information as the project progresses!
Frequently asked questions
WORSHIP IN THE CHRISTIAN LIFE CENTER (CLC)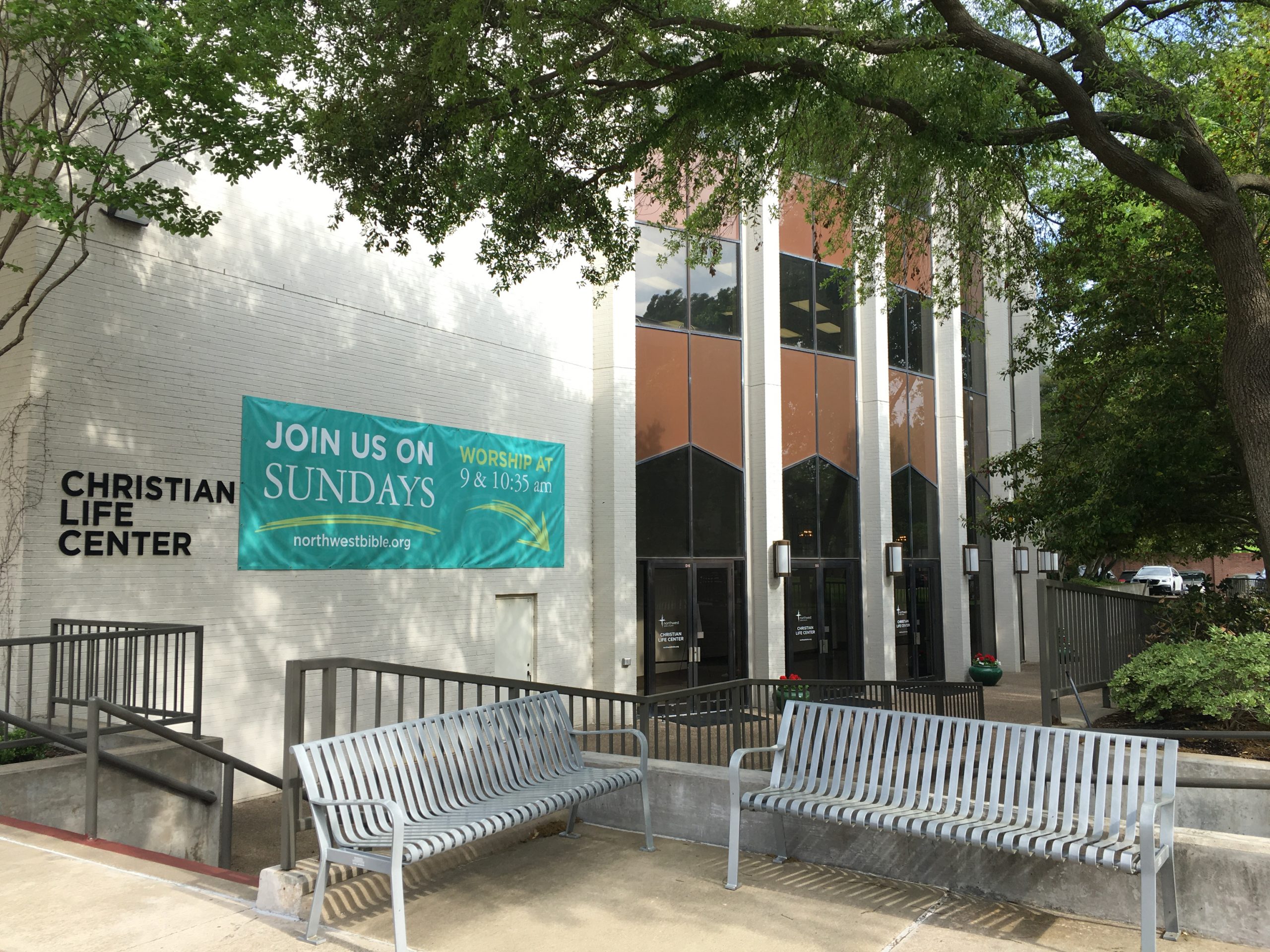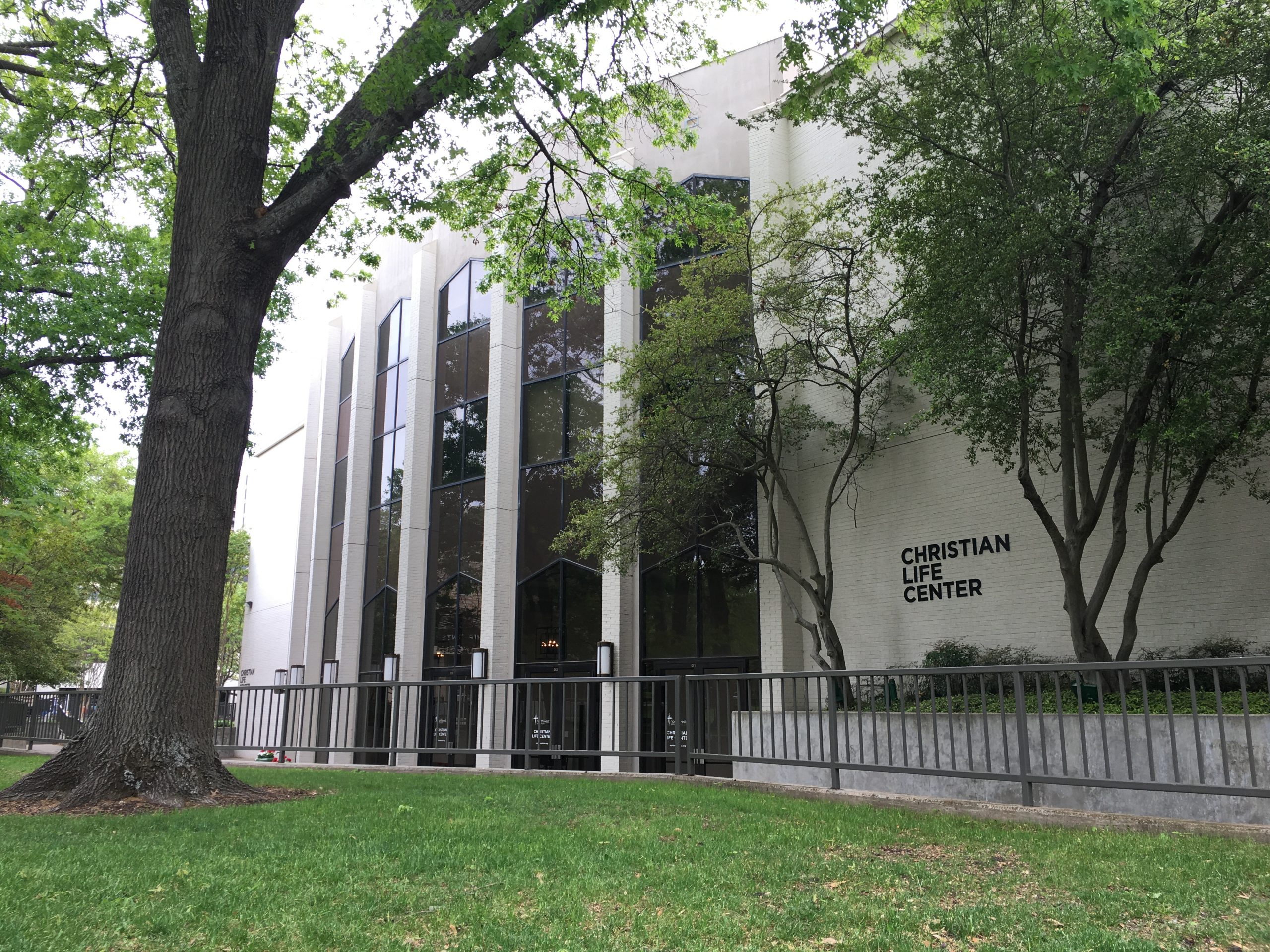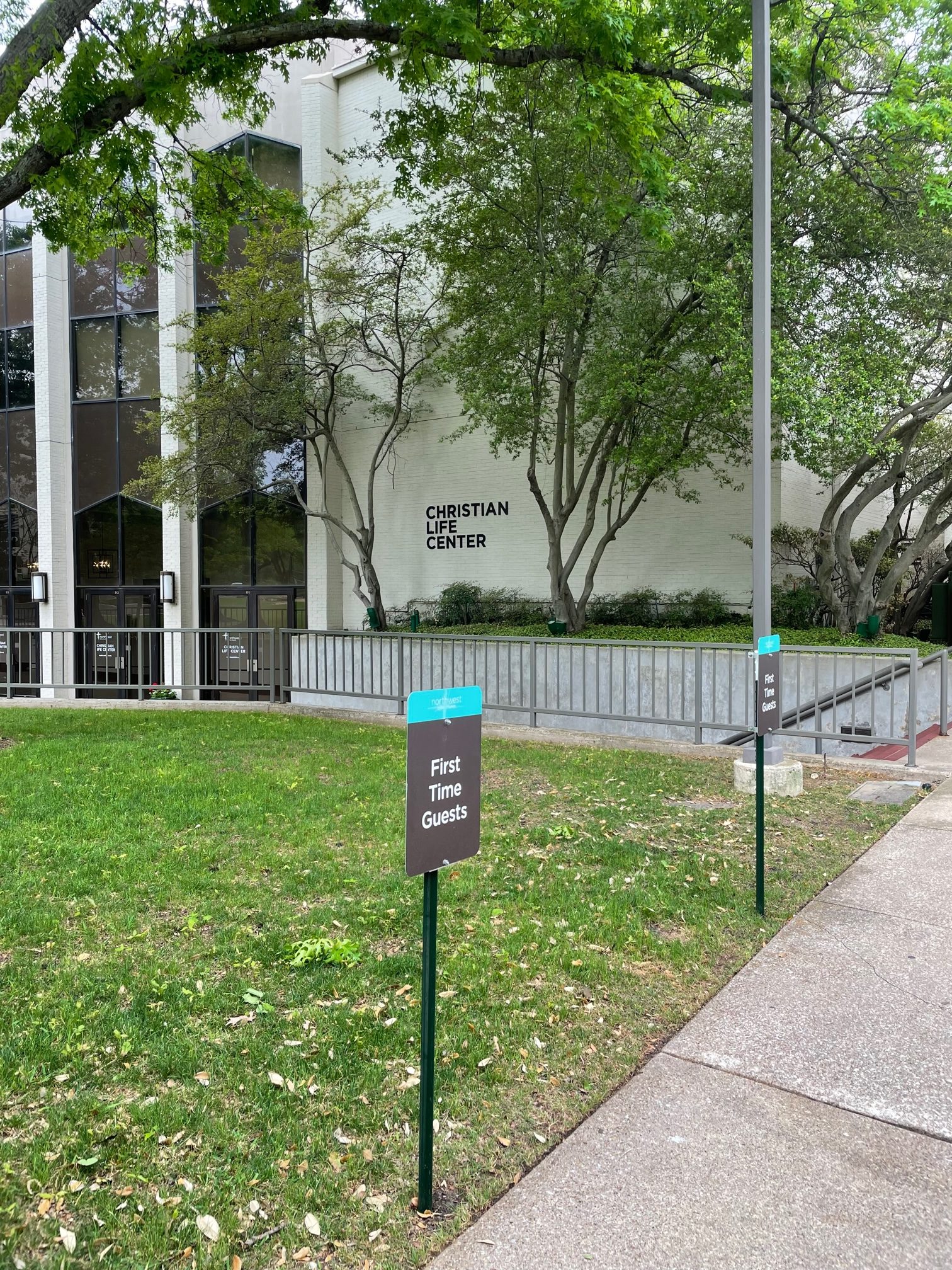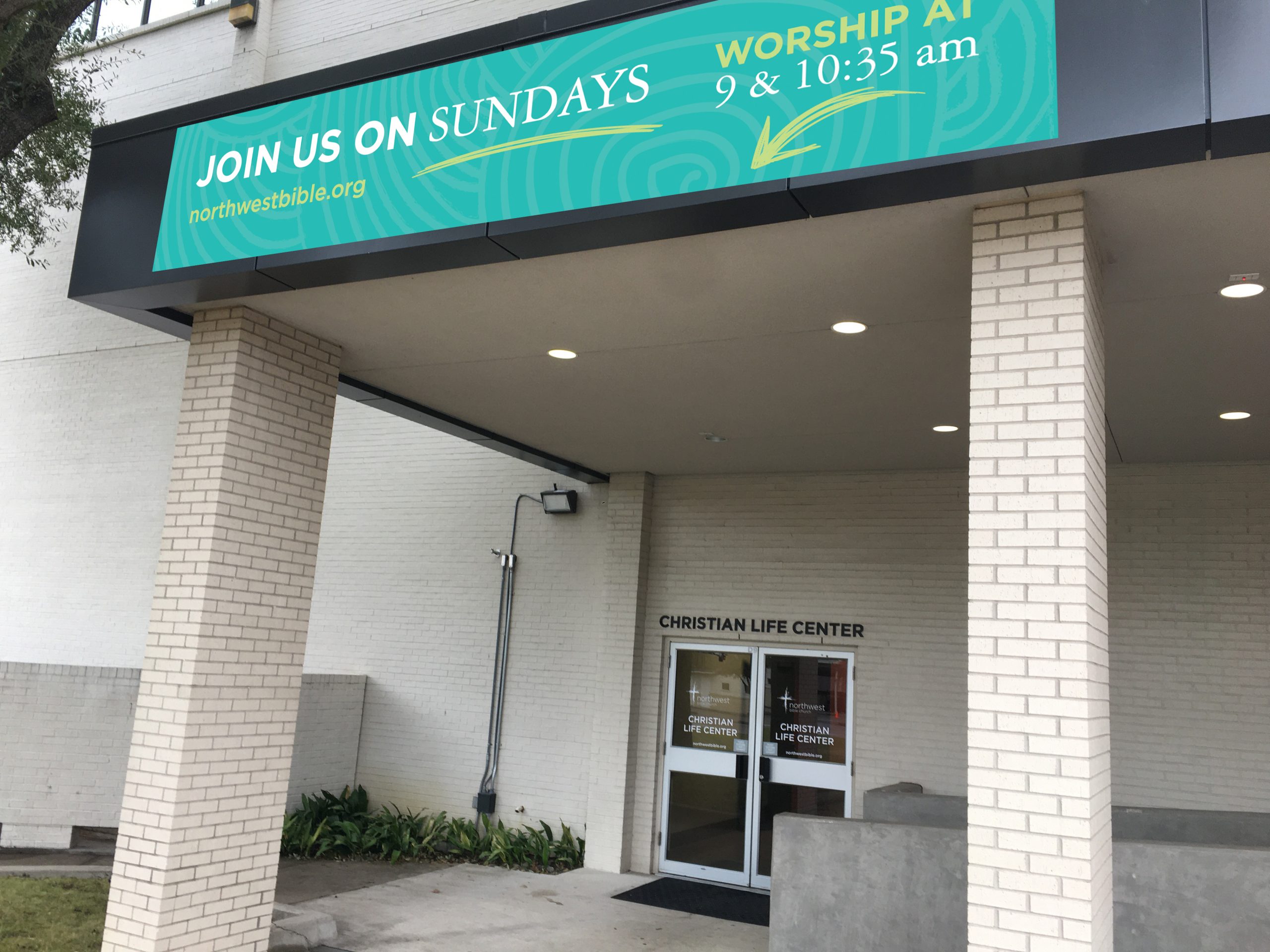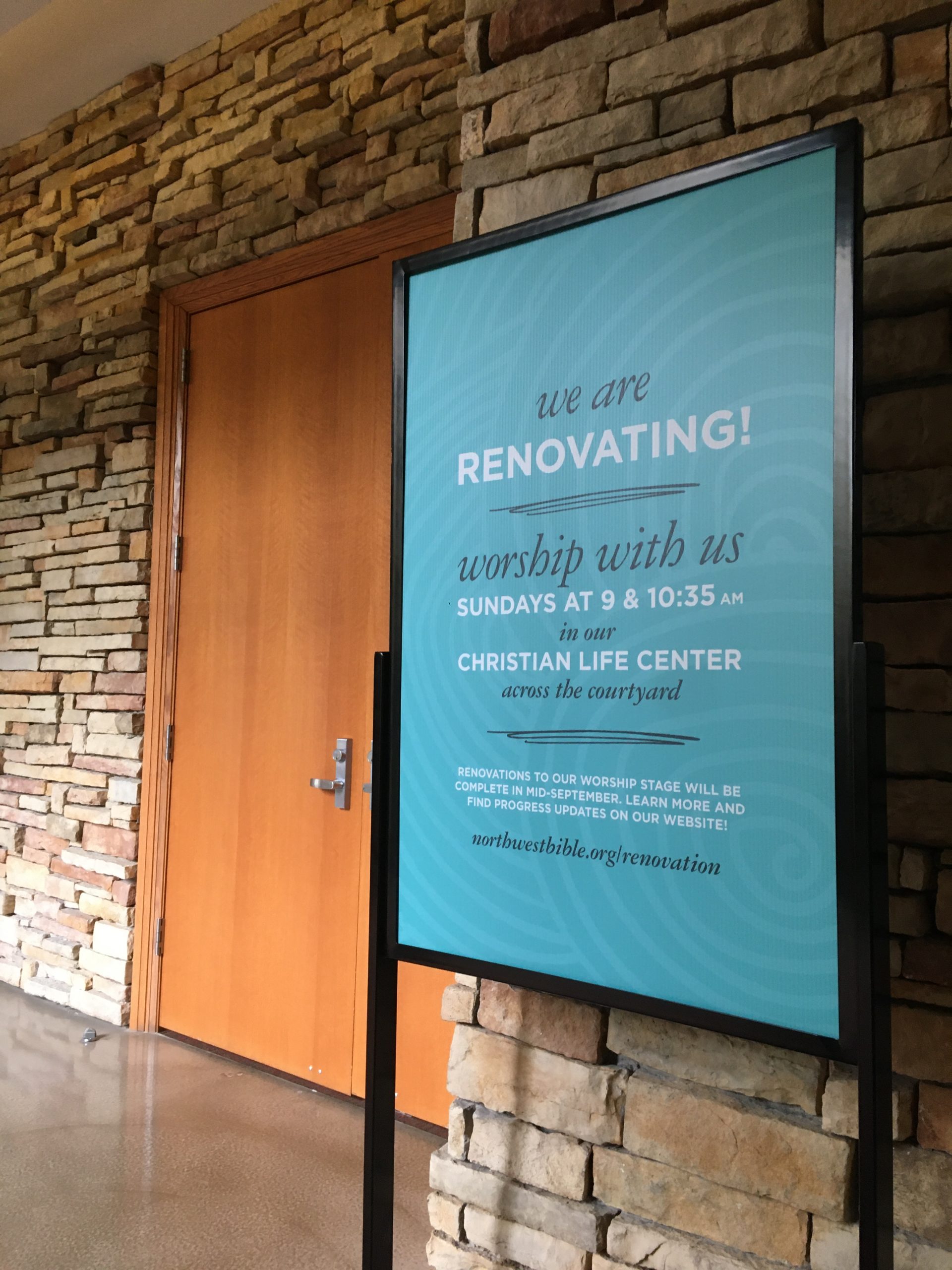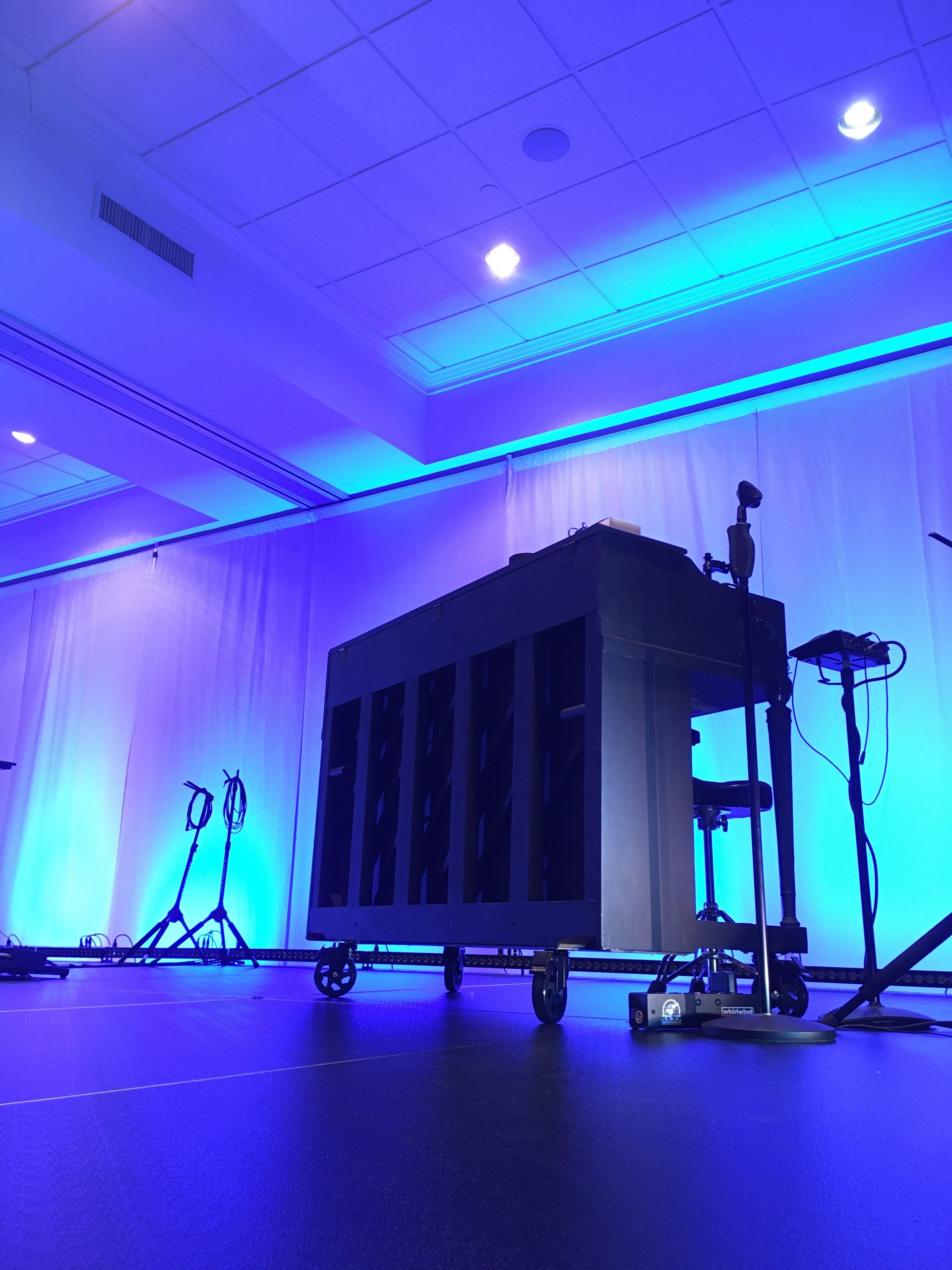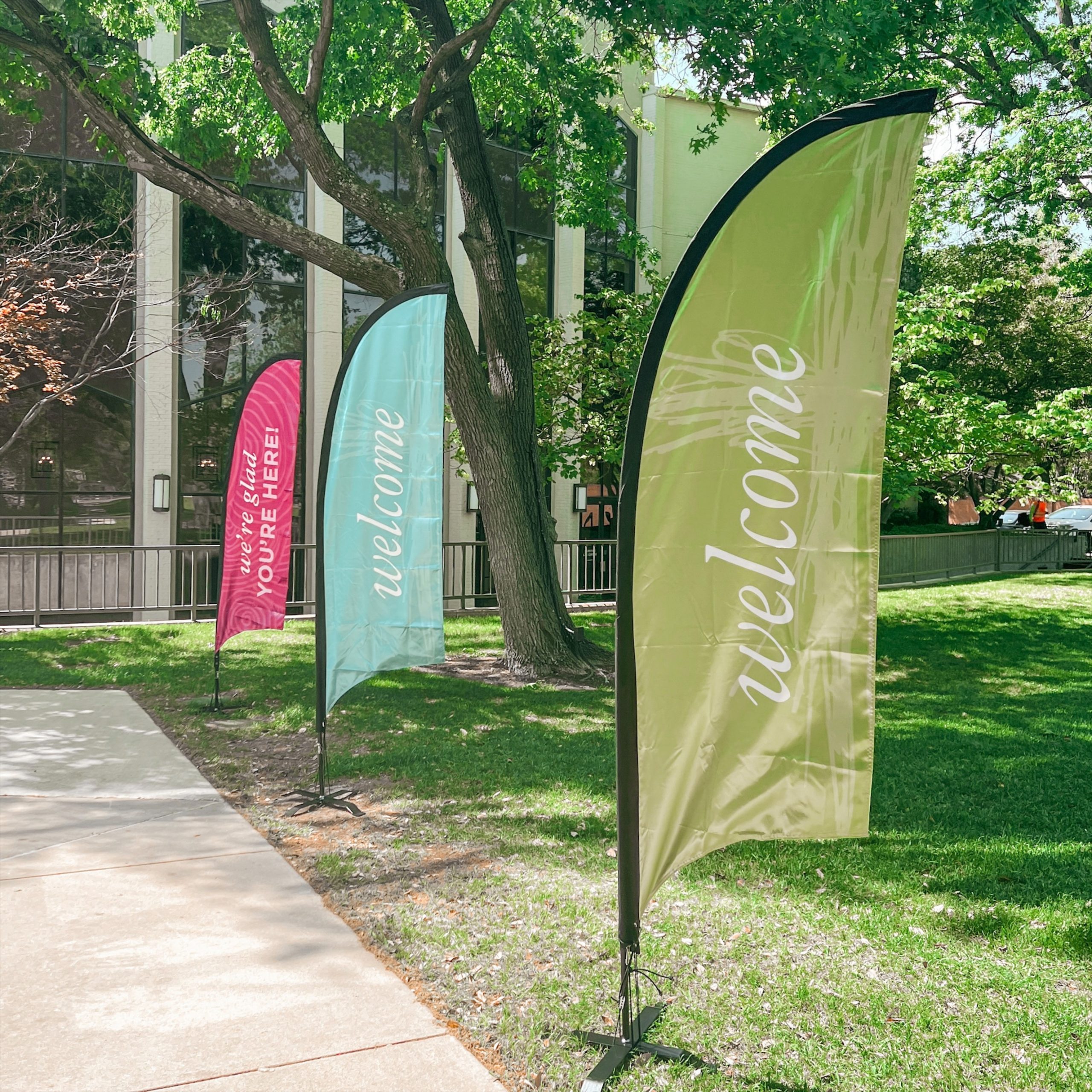 Here are a few details about what to expect for
Sunday worship in our Christian Life Center (CLC)!
What's NOT Changing?
Children's ministry (location, check-in procedure, schedule)
Student ministry (location, check-in procedure, schedule)
General parking—all lots are open as usual
Service times—still 9 & 10:35 a.m.
Live-streaming available for both services
Coffee! (It will be inside the CLC foyer)
What's NEW?
Both Worship Center entrances facing Douglas Avenue are closed
Worship Center entrance facing volleyball court is closed
Accessible parking spots are available near the CLC in the West parking lot next to the Tollway
Guest parking is located along the North parking area close to the red brick wall and facing the volleyball court—please keep these spots open for our guests
You can enter the CLC from the front entrance facing the Worship Center or the West entrance on the Tollway side of the campus
Welcome Centers will be located inside the CLC foyer and in the back of the CLC worship space
A Family Cry Room will be located in CLC Room 104
There will be marked accessible seating inside the CLC worship space
If you have any other questions, please email feedback@northwestbible.org.